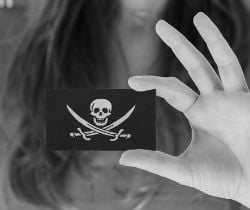 It's no secret that P2P file-sharing services are widely used to distribute pirated movies. However, less is known about the volume of these unauthorized transfers in various countries.
New data published in a Dutch report detailing the impact of unauthorized P2P file-sharing on the movie industry reveals that in the Netherlands alone an estimated 78 million euros are lost due to movie piracy.
The same report also provides some interesting statistics that shed some light o geographical file-sharing differences.
During the first half of the year MarkMonitor, which is also the technology partner for the U.S. six strikes program, tracked 16 popular English language blockbuster movies. The list includes titles such as Frozen, The Hobbit: the Desolation of Smaug, and The Hunger Games: Catching Fire.
The movies were monitored via both eDonkey and BitTorrent, with the latter having the largest audience. In total MarkMonitor found that these movies were shared 150,186,156 times without permission.
Despite the focus on English language films, most pirated copies – more than 20 million – were shared from Russia. The bar chart below shows the full top 10 based on the absolute number of infringements that were detected, with the United States, Italy, Brazil and Spain completing the top five.
It is of course no surprise to see these large countries on top. It gets more interesting when we look at the number of file-sharers per capita.
In the United States for example, 12.5 million pirated copies were shared in a population of more than 310 million, which is roughly 4%. In Russia this percentage is much higher at 15% and in Australia it's more than 16%.
Not surprisingly, the list of countries that share the most pirated movies per capita is quite different.
According to the report, the movies in the sample were relatively most shared in the United Arab Emirates, followed by Israel, Estonia, Greece and Italy. Australia, Qatar, Sweden, Singapore and the Netherlands complete the top 10.
It has to be noted that the findings above are based on a sample that is biased towards Western content. This explains the absence of Chinese downloaders, who tend to share files through other channels. Similarly, the data doesn't cover direct downloads and streaming sites which may be relatively more popular in other regions.
That said, the numbers do give some more insight into the popularity of P2P movie piracy, or lack thereof, across various countries.