Last week Popcorn Time burst onto the scene, offering content to be found on dozens of other sites but sitting head and shoulders above the rest in simplicity and presentation. But after a dream start and dozens of news articles, it was all over.
Pressure had been building within the project and rather than let things get completely out of hand, a decision was taken to move away. At the start of the weekend the Popcorn Time team called it quits and interest in the project expressed by a dev at YTS was later withdrawn by the site's operator.
Earlier in the week there had been other complications too, including the removal of the Popcorn Time installer from Mega.co.nz, the hosting service chosen by the software's devs. So what did Kim Dotcom know about that?
"I just woke up. No idea what happened," Dotcom told TF at 03:50am local time Thursday. "I'm not involved in Mega's day-to-day business since I resigned from Management to work on an alternative Internet concept called Meganet, Baboom and the Internet Party."
Days later we're still no closer to discovering why the files were taken down, whether that was due to Mega's own decision based on a ToS violation or if the hosting service was pressured by the MPAA. What is clear, however, is that Popcorn Time, the most elegant unofficial movie-viewing application of recent times, has underlined that the destruction of Mega did little to ease Hollywood's plight.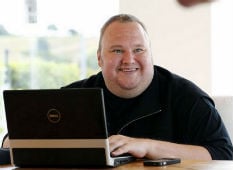 "I support innovation," Dotcom told TF.
"Popcorn Time and countless similar applications show where the road ends for Hollywood. Ultimately it's a cat-and-mouse game Hollywood can't win by force but only with smarter Internet offerings."
Interestingly, it seems that the people behind Popcorn Time actually understand where Dotcom is coming from.
In a file-sharing world dominated by the likes of The Pirate Bay and KickassTorrents, Popcorn Time came along this week and took what XBMC has being doing for some time and amped it up to eleven. They took the same content being offered by everyone else and made it more accessible and desirable.
Dotcom says this is what Hollywood should be doing, but instead their anti-piracy fixation remains.
"The destruction of Megaupload did nothing for Hollywood. Piracy is bigger than ever, despite overreaching law enforcement action & efforts by the MPAA and Chris Dodd to buy aggressive copyright laws and treaties. Hollywood made a mistake when they hired a powerful former Senator to run the MPAA in an attempt to fix their Internet problems with a sledgehammer," he adds.
While Popcorn Time was hardly stealth with its public torrent sources and open source format, Dotcom says that the worst is yet to come.
"The innovators of today are working on fully encrypted parallel Internets which don't rely on IPs. They are fluid oceans of homeless data that can't be controlled by anybody. I know of several projects that will make it extremely difficult for Hollywood. How do you take things down that can't be taken down?" he questions.
"Combine that with apps and sites that provide a no-takedown one-click high-speed content experience and Hollywood's nightmare is complete."
The signs indeed point to things getting worse. This week TF spoke to a developer who told us that work is already underway to bring a Popcorn Time-style experience to smart TVs, showing that not only is innovation far from dead, but soon even the likes of The Pirate Bay will have to do something to catch up.
According to Dotcom, however, there's still time for Hollywood to properly open up.
"It's not to late for Hollywood to embrace the Internet and offer more appealing services than those unauthorized services out there. Within three years Hollywood could double global income with an ingenious new online content service I have created. It's so good that International license holders of content would join this offering in a heartbeat. I have offered my help in an open letter to Hollywood some time ago. They still prefer the sledgehammer," he says.
"Hollywood has built a fortune on stories with happy endings, yet they don't get it in the real world. The Internet has the potential to be the biggest happy ending for Hollywood – and I know how," Dotcom concludes.