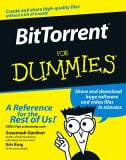 During October, John Wiley and Sons became the first book publisher to go after BitTorrent users in the US. With this lawsuit the company followed mostly in the footsteps of movie studios, who together have sued more than 200,000 people in the US since early last year.
Last week the major publisher picked up the pace by filing another mass-lawsuit, yet again targeting those sharing the "For Dummies" series online. The complaint lists 36 IP-addresses through which the defendants downloaded and shared titles including "Hacking for Dummies," "Vegetable Gardening for Dummies" and "Cooking Basics for Dummies."
In nearly all BitTorrent lawsuits that have been filed in the US, the copyright holders do not intend to file individual cases. Instead, they want to obtain the identities of account holders behind IP addresses so they can send a settlement claim ranging from a few hundred to a few thousand dollars.
TorrentFreak got in touch with the book publisher to find out if their end game is any different. It appears not.
"Our intention is to stop the infringement and let individuals know that they are violating the law and depriving the creators of the works of rightful compensation. Our preference is to educate, settle, and prevent further infringement," Wiley's attorney William Dunnegan told us.
Aside from a settlement, Wiley also hopes the legal action will deter others from engaging in the same behavior. This is the same approach the RIAA took when it got involved in mass-lawsuits years ago.
Although the strategy works in theory, the problem is that the evidence the company holds against file-sharers will never be tested in court. This is an issue, because due to faulty evidence many people have been wrongfully accused of sharing copyrighted works on BitTorrent. When tested, the evidence can turn out to be untrustworthy.
In a past RIAA court case experts described the evidence gathering techniques "as factually erroneous", "unprofessional" and "borderline incompetent." In addition, academics have shown that due to shoddy technique even a network printer can be accused of sharing copyrighted files on BitTorrent.
Wiley's attorney is aware of the critique, but says they do everything they can to prevent screw-ups.
"We understand that the ISP account holder may not be the actual downloader. That's why we will do due diligence after we receive the information from the ISP," Dunnegan told us. The lawyer didn't want to elaborate on what steps are taken but said that they "have a flexible approach depending on the situation."
Thus far things are going smoothly for the book publisher in court. In their first case District Court Judge William Pauley recently ordered that Wiley can send subpoenas to the ISPs of the defendants, which means that the first settlement letters should go out soon.