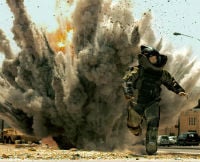 In March 2010, the law firm Dunlap, Grubb and Weaver imported the mass litigation "pay up or else" anti-piracy scheme to the United States.
Some of the most high-profile customers of the law firm – who for the purposes of their settlement work are known as the U.S. Copyright Group – are Voltage Pictures, the makers of the Oscar-winning Hurt Locker.
Now it seems that the United States just isn't a big enough market for settlements, so Voltage have taken their pay-up-or-else lawsuits north – and expanded into Canada.
Earlier, through law firm Goudreau Gage Dubuc LLP, Voltage Pictures applied for an order from the Federal Court in Montreal which would force three Canadian ISPs – Bell Canada, Cogeco Cable Inc. and Videotron GP – to hand over the personal details of subscribers said to have infringed its copyrights.
"Voltage Pictures LLC owns the copyright of the film 'Hurt Locker'. The defendants have copied and distributed the film via the Internet without the permission of Voltage Pictures LLC," says the order.
Voltage adds that although it has obtained IP addresses, without the help of Canadian ISPs the studio cannot convert them to real-life identities.
"Voltage Pictures LLC requests permission to interview internet service providers in advance in writing so that they disclose the names and addresses of customers who match the IP addresses already obtained," says Voltage.
"Once it has identified these customers, Voltage Pictures LLC may send notices and, where appropriate, add these individuals as defendants in this action."
On August 29th, the Federal Court in Montreal granted the order and gave the trio of ISPs just two weeks to hand over the names of subscribers. Since today is September 9th, and the weekend is almost upon us, one might assume that the details have already been handed over, or will be by Monday.
According to Canadian lawyer Michael Geist, there is no indication that the ISPs challenged the court order or that any public interests were given the opportunity to intervene.
"The prospect of thousands of Canadian peer-to-peer file sharing lawsuits – with potential liability of tens of thousands dollars per person for a single movie – highlights why the government was right in Bill C-32 to reform the statutory damages provision to distinguish between commercial and non-commercial infringement," writes Geist.
"Non-commercial infringement was capped under the bill at $5000 for all infringements, though it can go far lower. This case confirms that mass lawsuits with the threat of thousands in liability is a real possibility in Canada and why changes to the law are needed."
Canadian Internet users, with their relaxed attitude towards their culture of file-sharing, are likely to be outraged by the action taken by Voltage. Certainly one to watch.