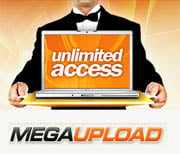 Cyberlockers are becoming increasingly popular and may have overtaken torrents as the file-share medium of choice. Of course, this hasn't gone unnoticed by the entertainment industry who have labeled such sites as rogue piracy havens.
While RapidShare has gone on the offensive, describing claims in anti-piracy-funded studies as 'defamation', MegaUpload has been more direct. A few days ago the company responded to accusations the RIAA and MPAA made about the facilitation of copyright infringement, calling them "grotesquely overblown allegations."
While all of this was going on a separate conflict was brewing in France, between MegaUpload and France Telecom, specifically the Orange subsidiary.
MegaUpload has claimed that Orange has been substantially slowing down, or blocking access to its servers. Presumably these actions were taken in an attempt to discourage people from using the service, a claim Orange denies.
Accusations and claims have been flying back and forth for the past few days, including a banner run by Megaupload this week which suggested that Orange subscribers call up and cancel their subscriptions, in favour of ISPs with better peering.
The full text is (translated from French)
Slow Downloads? Video playback is hesitant?
It is likely that your Internet provider is intentionally restricting your access to significant portions of the Internet! Our claims statistics show that most users who have this problem are accessing the Internet via France Telecom, often under the Orange brand (also "Ya" in Spain).

If you are concerned, please call Orange customer service on 3900 and tell them that you can not connect to sites hosted on Cogent and TATA. Also tell them that you are considering moving to an Internet provider with an excellent global connectivity, such as Iliad or SFR (free.fr, Alice). If you're impatient and you need a good service immediately, consider changing your supplier for one of them, and be sure to tell Orange the reason for your decision to terminate your line!
In a telephone press conference last Thursday, Orange hit back at MegaUpload. The ISP stated that it follows the Net Neutrality rules as laid down by the communications regulation body ARCEP. Instead, the ISP argued that MegaUpload's users are the victims of 'a low-cost business model,' where the cyberlocker signs cheap peering contracts that lead to the slow downloads.
Orange further noted that it takes no responsibility for the situation, and that MegaUpload should improve their infrastructure as other French ISP's have had the same kinds of problems with MegaVideo/MegaUpload at times. They also added that although difficult, MegaUpload needs to find a balance between quality and economic performance.
While some might suggest it's a battle between peering companies, there may well be more to it, which will bring the focus on ARCEP's 4 month old net neutrality guidelines for France. It's clear however, that this battle of wills is just heating up. Especially when (or if) the likes of HADOPI get involved, the new anti-piracy law which ironically doesn't affect users of cyberlockers.