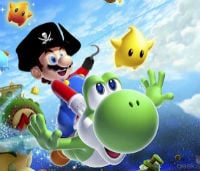 Emulating old or defunct hardware to allow the playing of 'retro' games is a growing activity fueled by nostalgia and ever-increasing processing power. Emulating old arcade games via software such as MAME has a fanatical following on PC but the rise of the smartphone and tablet has brought a whole new fanbase on board.
It's now possible to emulate classic games on both iOS and Android devices, some via official apps and others via less authorized routes. Traditionally iOS has been the less flexible route due to the need for users to jailbreak their devices but in recent months the latest version of a Game Boy emulator has been tearing things up by allowing direct installation, no hacks needed.
GBA4iOS works very well indeed. The no-jailbreak installation on iPhone or iPad is achieved by exploiting a loophole in Apple's Developer Enterprise Program and once in situ the user has access to countless games, accessible via an inbuilt browser and third party ROM sites. The latest version even has Dropbox integration.
The emulator is the brainchild of high-school student Riley Testut who back in February reported that the latest version of the software alone had achieved more than one million downloads. Now, however, the 18-year-old has the might of Nintendo of America to deal with.
Up until a few hours ago GBA4iOS was hosted on Github, but now the gaming giant's legal team has hit the code sharing website with a takedown for the popular emulator.
"We represent Nintendo of America Inc. ("Nintendo") in copyright matters. Certain material posted on the web site located at www.gba4iosapp.com infringes copyrights owned by Nintendo. GitHub, Inc. is identified as the internet service provider for this web site and IP Address 192.30.252.153. This notice is provided pursuant to the Digital Millennium Copyright Act, 17 USC § 512," the notice begins.
"Nintendo requests that GitHub, Inc. disable public access to the web site at www.gba4iosapp.com. This web site hosts a downloadable mobile application for iOS that provides users with access to unauthorized and illegal copies of Nintendo's copyright-protected video games in violation of Nintendo's exclusive rights."
Nintendo signs off with a note that it would appreciate Github's "expeditious removal" of all infringing content. Somewhat immediately, Github complied.
Riley Testus reports that while the emulator will continue to work, at least for now there will be no new downloads.
The teenager, who is very open with his identity online and is currently on an internship with Bottle Rocket Apps, has a new version with multi-player support in the pipeline but this action from Nintendo is bound to cast a huge shadow over that release.
Fighting it out with one of the world's largest games companies at such a tender age is unlikely to end well, so if people have a copy of the software, archiving it now might be a wise decision. It could be the last one ever.