Gaining free access to copyrighted material is not a difficult task in today's online world. Movies, TV shows, music, games, and eBooks are all just a few clicks away, either using torrent, streaming, or direct download services.
Over the years, however, the growth of piracy has been at least somewhat slowed due to the advent of official services. Where there was once a content vacuum, official platforms such as Netflix, Spotify, HBO, TIDAL, Steam, and others, are helping users to find the content they want.
While most services present reasonable value, subscribing to them all would be a massive strain on even the most expansive of budgets. But what if there was a way to access every single one of them, for just a few dollars a year – in total? Believe it or not, such services exist and have done for some time.
Described as 'Account Generators', these platforms grant members with access to dozens of premium services, without having to pay anything like the headline price. The main ones often major on access to a Netflix subscription as a base, with access to other services thrown in on top.
How much a year?
The screenshot above shows one 'generator' service as it appeared this week. On the far right is a Netflix offer for $2.99 per year or $4.99 for a lifetime 'private' account (more on that later). That is of course ridiculously cheap.
On the near left is the 'All Access' plan, which offers access to Netflix plus another 69 online services for just $6.99 per month or $16.99 per year. The range of services available is impressive, to say the least.
Movies and TV Shows: Netflix, Amazon, Hulu, HBO Now, Crunchyroll, DIRECTV/Now, Stream TV Live, CBS All Access, Funimation, Slingbox, Xfinity.
On the sports front: BT Sports, Fubo.tv, F1 Access, MLB.TV, NBA League Pass, NFL Game Pass, UFC Fight Pass, WWE Network.
For music, access is provided to Spotify, Deezer, Napster, Pandora, Saavn, SoundCloud, and TIDAL.
A small selection of the services available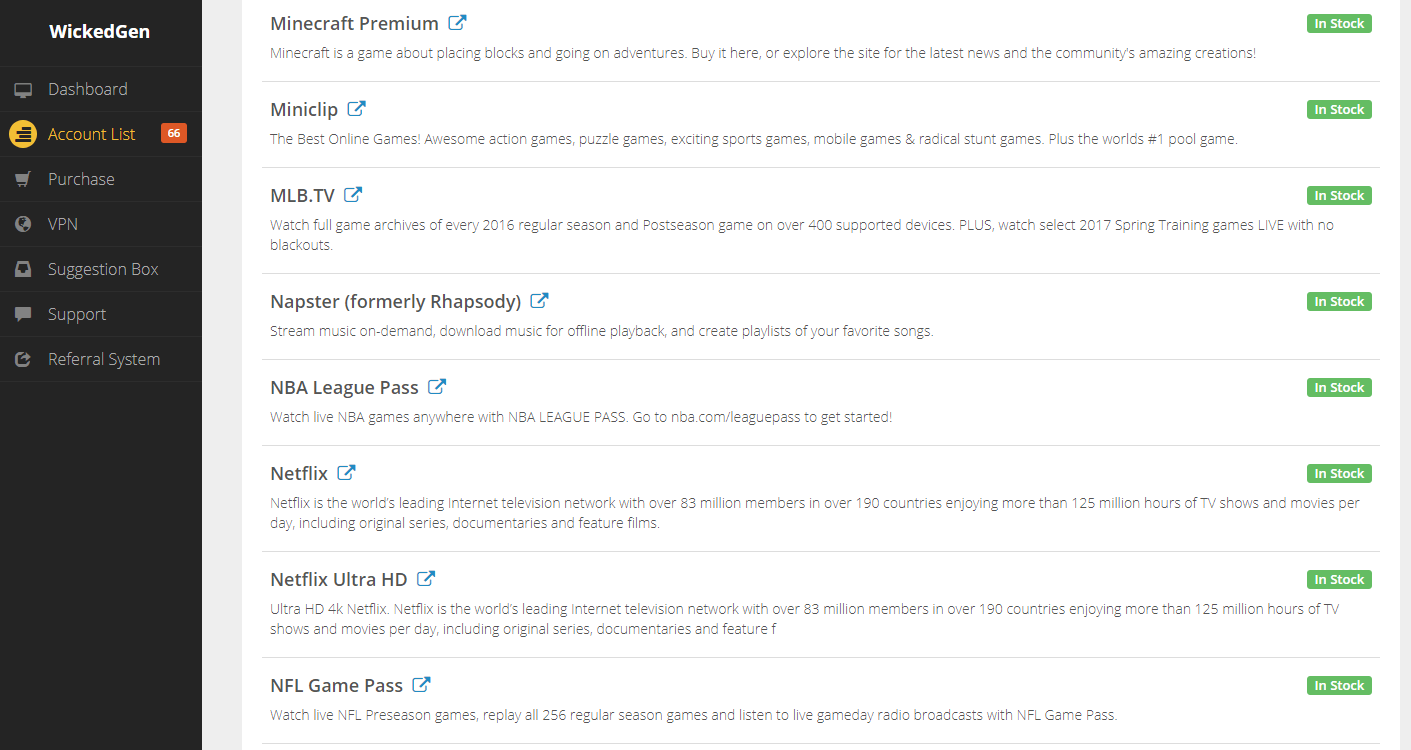 How these services gain access to all of these accounts is shrouded in a level of secrecy but there's little doubt that while some are obtained legitimately (perhaps through free trials or other account sharing), the roots of others are fairly questionable.
For example, when these services talk about 'shared and 'private' Netflix accounts, the former often appear set up for someone else, with individual user accounts in other people's names and suggestions for what to watch next already in place. In other words, these are live accounts already being paid for by someone, to which these services somehow gain access.
Indeed, there are notices on account generator platforms warning people not to mess with account passwords or payment details, since that could alert the original user or cause an account to get shut down for other reasons.
"Origin brings you great PC and Mac games. Play the latest RPGs, Shooters, Sim games, and more. These accounts are private (1 per person), however you MUST NOT change passwords," one warning reads.
Since Origin has just come up, it's probably a suitable juncture to mention the games services on offer. In addition to EA's offering, one can gain access to Xbox Live, ESL Gaming, Good Old Games, League of Legends, Minecraft Premium, Steam (game keys) and Uplay.
And it doesn't stop there.
Need a BitDefender key? No problem. Access to Creative Market? You got it. Want to do some online learning? Queue up for Chegg, CourseHero, Lynda, Mathway, Udemy, and more. There's even free access to NYTimes Premium. As the image below shows, thousands of accounts are added all the time.
Thousands of accounts, all the time…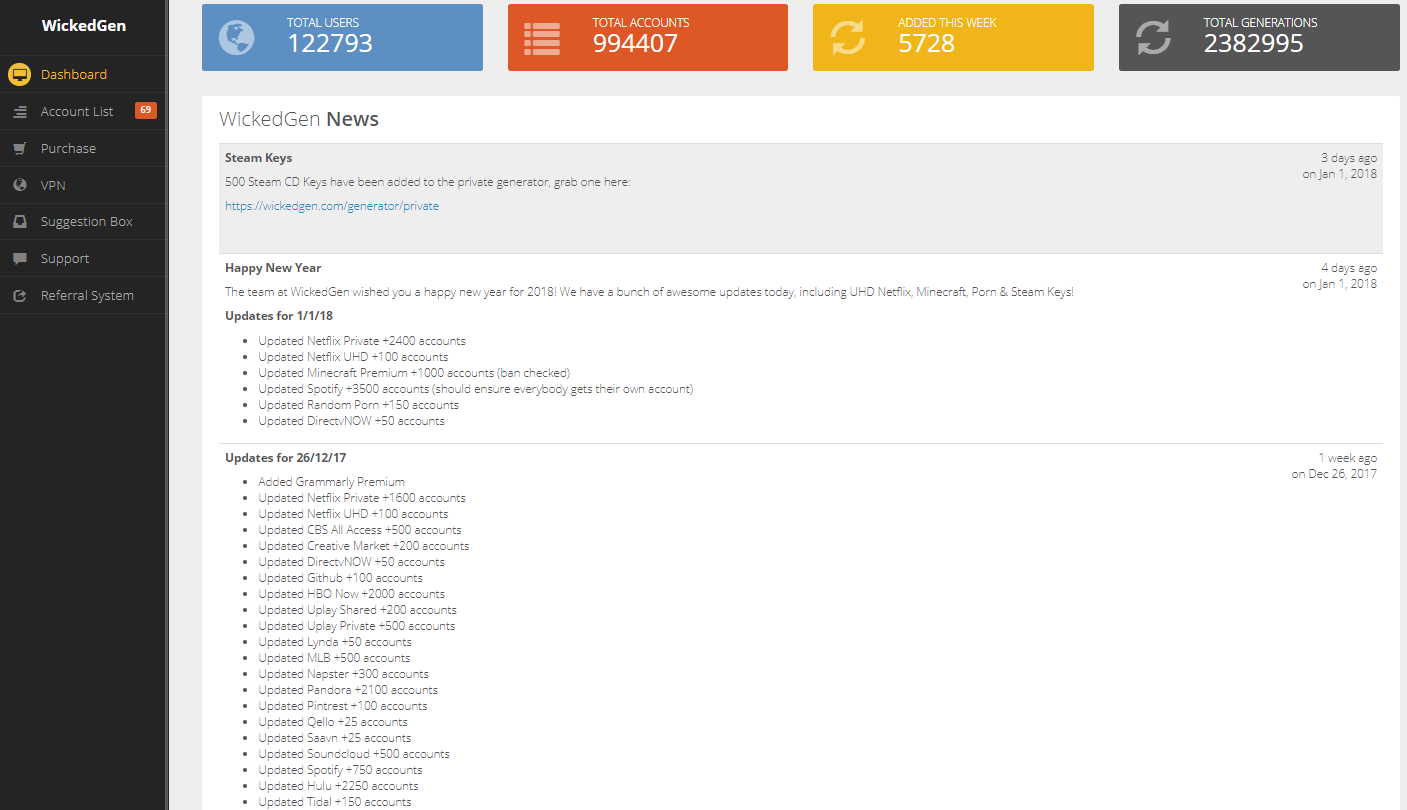 While these generator platforms are undoubtedly popular with people on a budget, almost everything about them feels wrong. Staring into someone's private Netflix account, with what appear to be family names, is unsettling. Looking at their private email addresses and credit card details feels flat-out criminal.
Quite how these services are able to prosper isn't clear but perhaps the big question is why the platforms whose accounts are being offered haven't noticed some kind of pattern by now. Maybe they have, but it's probably a pretty difficult task to sweep up the mess without a lot of false positives, not to mention the risks of ensnaring those who pay for their accounts officially.
The video below, from late 2016, gives a decent overview of how an account generator platform works. Even for many hardcore pirates, especially those who demand privacy and respect the same for others, parts of the viewing will be uncomfortable.
Update January 10: the video was removed by YouTube.