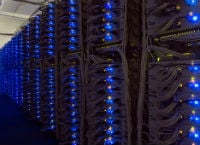 Following a lengthy investigation by anti-piracy group Antipiratbyrån, in 2010 police raided a "warez scene" topsite known as Devil. Dozens of servers were seized containing an estimated 250 terabytes of pirate content.
One man was arrested and earlier this year was eventually charged with unlawfully making content available "intentionally or by gross negligence."
Police say that the man acted "in consultation or concert with other persons, supplied, installed, programmed, maintained, funded and otherwise administered and managed" the file-sharing network from where the infringements were carried out. It's claimed that the Devil topsite had around 200 members.
All told the man is accused of illegally making available 2,250 mainly Hollywood movies, a record amount according to the prosecutor.
"We have not prosecuted for this many movies in the past. There are many movies and large data set," says prosecutor Fredrik Ingblad. "It is also the largest analysis of computers ever made in an individual case."
Few details have been made available on the case but it's now been revealed that Antipiratbyrån managed to trace the main Devil server back to the data center of a Stockholm-based electronics company. The site's alleged operator, a man from Väsbybo in his 50s and employee of the company, reportedly admitted being in control of the server.
While it would likely have been the intention of Devil's operator for the content on the site to remain private, leaks inevitably occurred. Predictably some of that material ended up on public torrent sites, an aggravating factor according to Antipiratbyrån lawyer Henrik Pontén.
"This is a very big issue and it is this type of crime that is the basis for all illegal file sharing. The films available on Pirate Bay circulate from these smaller networks," Pontén says.
The big question now concerns potential damages. Pontén says that the six main studios behind the case could demand between $673,400 and $2.69m per movie. Multiply that by 2,250 and that's an astonishing amount, but the lawyer says that in order not to burden the justice system, a few titles could be selected.
Henrik Olsson Lilja, a lawyer representing the defendant, declined to comment in detail but criticized the potential for high damages.
"I want to wait for the trial, but there was no intent in the sense that the prosecutor is looking for," Lilja told Mitte.se. "In practice, these are American-style punitive damages."