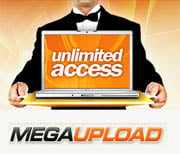 While Kim Dotcom and his team are preparing their defense in the criminal cause against the US, the domain name Megaupload.net was just auctioned on SEDO.
The auction ended a few days ago and Megaupload.net was sold for $11,099.
The domain in question didn't belong to Megaupload and wasn't sold to Megaupload either.
What plans the new owner of the domain has for Megaupload.net is unknown.
The domain currently links to a parked page.