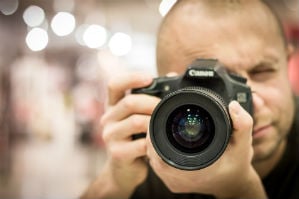 When it comes to online piracy most attention usually goes out to music, TV-shows and movies.
However, photos are arguably the most-infringed works online and some photographers are starting to take action in response.
Recently we've seen a trend emerge on this front. A handful of independent photographers have teamed up with attorney Richard Liebowitz in order to demand damages from a variety of publishers, mostly prominent news outlets.
One of the photographers taking a stand is Christopher Sadowski, who noticed his work being featured on Gizmodo.com and Gawker.com. Sadowski sued Gawker media for using his photo of an UBER car in two articles. In neither case he was rewarded or recognized for his work, the complaint alleges.
"Gawker did not license the Photograph from Plaintiff for its articles, nor did Gawker have Plaintiff's permission or consent to publish the Photograph on its Websites. Upon information and belief, Gawker removed Sadowski's gutter credit and did not attribute the Photograph to anyone."
It's unclear how the photo ended up on Gawker but the complaint states that it was properly licensed to The New York Post earlier. Gawker has yet to respond to the claims and at the time of writing the photo is still online.
The allegedly infringing image on Gizmodo
Sadowski is not alone as several lawsuits have also been filed on behalf of other photographers in recent weeks. For example, photographer John Mantel sued a variety of news publishers including tech companies Verizon, AOL and Microsoft, for using his work without permission in news articles.
Similarly, Steve Sands launched lawsuits against IGN.com (Ziff Davis) and MTV.com, Steven Hirsch sued Heavy.com, Allesandro Masi took Yahoo.com to court and Angel Chevrestt went after CBS. And that's just a small selection of the ongoing cases.
Sands vs. Ziff Davis
In all cases, the publishers are accused of copyright infringement and the common theme is that the news outlets use photos in their articles without properly licensing them. Most of the time the photographers in question are not even credited.
None of the accused news outlets have been found liable yet, but it's very likely that at least some of them are breaking the law. According to the defense attorney, these news outlets are clearly profiting from the work of his clients.
"Copyright infringement is an ongoing issue. Companies are using other people's hard work and profiting off of it. It is important for photographers and the creative community to unite and stand up for their rights and protect their work," Liebowitz tells TorrentFreak.
In the complaints the photographers all seek compensation, which could go up to $150,000 in statutory damages per work. It is expected, however, that most will be settled for a lower amount at some stage to avoid expensive litigation.
The costs involved with these cases is also one of the main reasons why photographers typically don't file lawsuits. Starting a federal case with proper representation is quite costly, while the outcome is rather uncertain.
However, this may change soon. This week, Congressman Hakeem Jeffries introduced a new bill that will give rightsholders a cheaper option to pursue these cases.
The CASE Act, short for Copyright Alternative in Small-Claims Enforcement, proposes a small claims court to resolve copyright disputes outside the federal courts. This means that legal costs will be significantly reduced.
This is not the first time that a small claims court for copyright issues has been proposed but this time the plan has significant backing from Professional Photographers of America, a trade organization with roughly 30,000 members
For now, however, Liebowitz and his client will have to take their cases to federal court. Considering the stream of new complaints being filed, this strategy may still pay off.