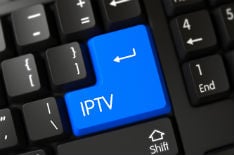 As the popularity of pirate IPTV suppliers, sellers, and resellers continues to grow, entertainment industry companies – which were initially quite slow to combat the threat – are now piling on the pressure.
The momentum arrives via the Alliance for Creativity and Entertainment (ACE), the huge anti-piracy coalition featuring the combined power of Hollywood, Netflix, Amazon, plus a broad array of global entertainment industry names.
While ACE's press office sits quietly by, knowing all but saying pretty much nothing, news of fresh ACE activity hits TF's newsdesk several times every month and regularly features action against IPTV providers. This week offers no let-up in that trend.
'Streams For Us' Shuts Down Under ACE Pressure
There are hundreds of IPTV brands on offer today and Streams For Us was one of the better-known providers. Until this week, that is, when it suddenly shut down.
As always, rumors varied from the operators "doing a runner" with the cash to being forced out of business due to actual or potential legal action. From the information received by TF thus far on the matter, it appears that the latter applies in this case.
It is extremely common for ACE pressure to begin with a cease-and-desist notice. At this point it's up to the IPTV entity to decide on the direction – ignore it and carry on or comply with its terms. Streams for Us was placed under pressure by ACE and subsequently shut down.
That will almost certainly not be the end of the matter though, as ACE also likes to tie up loose ends, including taking over domains and perhaps reaching a settlement offer. The terms of any settlement are almost always confidential but depending on how quickly an agreement can be reached, it's likely that Streams For Us domains will be transferred to the MPA shortly after.
Precisely when this pressure to close began isn't clear but according to reports, the Streams For Us 24/7 VOD channels were removed a few days ago. So-called 24/7 channels specialize in a particular TV series, showing episodes constantly.
While popular with customers, these channels require copies of the episodes to be stored on – and distributed from – a server, a breach of copyright law and a clear head above the parapet for those seeking to exploit the 'streaming loophole'.
At the time of writing, streamsforus.net and forushosting.com are both down along with the service's social media accounts.
Other IPTV Brands Go Down, Potentially Due to the Above
After Streams For Us went down, other IPTV brands – some of which appear to have connections to the targeted provider – also disappeared according to users.
Thunder IPTV, Commando IPTV, Nue Media, Net Streams are all reportedly down at the time of writing, with reports suggesting that some acted as resellers or rebrandings of the Streams For Us service. TheHeroTV also appears to have gone down during the past few days too but we were unable to establish if connections exist to the above.
Whether any of these brands were targeted individually by ACE is currently unknown but if the claims of reliance on Streams For Us channels are true, cutting off the head may have achieved the desired result without that being necessary.