Following in the footsteps of the makers of uTorrent, the Vuze team is now taking a stand against piracy.
The California-based company says it will focus more on highlighting legal content through social media and other outlets. Vuze emphasizes that its technology is completely legal, but wants its users to understand that sharing files without permission of copyright holders isn't.
"Although torrents themselves are a legitimate way to share files, understanding the rights of copyright holders and what content they have or have not authorized for free distribution is the core to understanding the difference between it being legal or illegal to share or distribute content using Vuze," the company notes.
"Remember, if you use Vuze torrent client software for P2P file sharing then use it responsibly. Be aware of illegal torrents and avoid downloading them. Don't infringe copyright," Vuze adds.
This position is sensible for a technology company to take. Also, Vuze does highlight that copyright is a complex issue, and that there are ongoing discussions with varying positions. The bottom-line according to Vuze, however, is that downloading something without the permission of the owners is stealing.
"Now we can get into all sorts of political, social and even religious discussions on this topic, but right now as the laws exist in most places downloading and sharing content without the authorization of the rights-holder is stealing, and even if one copy was purchased, passing digital copies around via P2P is still illegal, sometimes criminally so."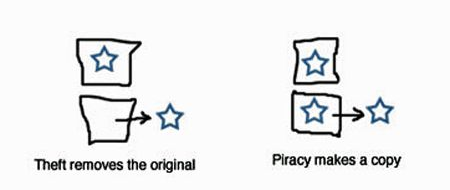 "Sharing and downloading infringing MP3s and MPEGs is virtually the same as swiping from a brick-and-mortar," Vuze adds.
The "stealing" mention is a touchy subject. Many people, including scholars and a U.S. federal court, believe that this term should be avoided when talking about piracy.
Even the MPAA's Chris Dodd agreed on this. "We're on the wrong track if we describe this as thievery," Dodd said two years ago, although the MPAA still uses the term today.
Vuze, however, doesn't avoid this type of strong language. The company wants to make it clear that piracy is not allowed. In fact, the company encourages its users to follow suit, and "consider reporting illegal content infractions."
Aside from the promise to highlight legal content on its blog, they also provide some tips for users to spot infringing content. Vuze hopes that with these guidelines, users will be able to steer away from any illegal behavior.
"We want to again stress that we respect the rights of copyright holders, and hope and expect that you do too," Vuze concludes.
Whether that's going to happen remains to be seen. Several studies have shown that more than 90% of all public transfers via BitTorrent are copyright infringing, and it will be hard to flip these numbers around.