In their ongoing efforts against online piracy, the UK music industry wants torrent site owners to guarantee that links to infringing tracks and albums will no longer appear on their websites. The demands require torrent site owners to install and maintain a broad keyword filter or launch a system to prevent infringing uploads. Music industry group BPI warns that those who fail to cooperate can expect legal repercussions.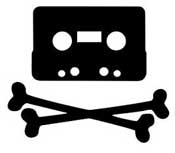 When it comes to anti-piracy initiatives the UK music industry is one of the world's front-runners.
The major labels are responsible for blocking a wide range of websites including The Pirate Bay, and last month they teamed up with City of London Police in a campaign to shutter popular torrent sites.
Keeping the pressure up, UK music industry group BPI is now contacting torrent sites with a legal threat of their own. In their letter the BPI accuses torrent site owners of encouraging and facilitating massive infringement of their copyrights.
"We are writing you in relation to the Site's very large-scale infringements of the Members' copyrights in sound recordings in the UK. The site encourages and enables the infringement of those copyrights by users of BitTorrent technology," the letter notes.
The BPI explains that it found pirated music from Amy Winehouse, Justin Bieber, Rihanna, Take That and many other popular artists via torrent sites, and claims that site owners are liable for these infringing works.
"We have carried out tests which confirm that torrent files for sound recordings identified in the enclosed list are available for download and/or accessible by magnet link on the Site. You are therefore liable for infringement of the copyright in those sound recordings," BPI explains.
To prevent further damages the BPI asks the site owners to "take immediate action" to prevent further infringements.
BPI Demands
As can be seen in the image above, the BPI wants site owners to remove a list of albums and tracks from their sites. However, it doesn't stop there as the music group also demands that future uploads should be prevented and reserves the right to expand the list in the future.
The enclosed list doesn't specify any URLs. This means that the torrent site owners would have to install a broad keyword filter to comply, or otherwise prevent new titles from being added to the site.
Responding to the letter, one torrent site owner made it clear to TorrentFreak that he doesn't intend to cooperate.
"Apparently BPI thinks that all the whole world is governed by UK laws, sponsored by BPI! They don't like torrent sites – fine, we don't like their 'music'," we were told.
According to the site owner his site complies with takedown notices as most others do, including requests from BPI members. However, he can't find any recent notices from the BPI itself and the music group is not among the most active senders.
"There are several music labels who happen to be BPI members who send cease and desist notices. These are processed normally – content gets deleted if they send URLs, which usually takes up to four hours," the site owner explains.
The BPI has a different view on the matter and believes that the torrent sites have an obligation to take action.
"These sites exploit artists' work without their permission and undermine the massive investments that labels make bringing new music to fans," BPI's Chief Executive Geoff Taylor tells TorrentFreak.
"They also inhibit the development of legitimate services, which need a level playing field to grow. We have therefore written to ask that they take immediate action to ensure they no longer infringe copyright," he adds.
If the sites fail to respond positively the BPI plans to take legal action, as the group makes clear in its letter.
"If we do not hear from you by 8 July 2013 with confirmation of the above, then the Members will take appropriate legal action in relation to the Site without further notice to you."
Whether that means site owners will be dragged into court, or that the BPI will apply for the sites to be blocked in the UK, remains to be seen.