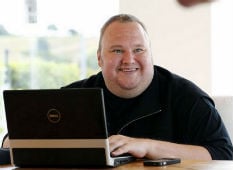 In the early days of 2012, Kim Dotcom was the operator of arguably the most successful file-hosting site the world had ever seen. With 50 million daily users, Megaupload seemed to be an unstoppable juggernaut. Three weeks later it was all over.
As law enforcement officers raided the company and its operators in multiple locations, authorities were seeking to freeze Kim Dotcom's considerable assets. Dozens of millions of dollars were seized in multiple jurisdictions, including locally in New Zealand.
Since then, Dotcom and his legal team have engaged in frequent battles to have funds released so that the businessman can go about his life. On the whole, the New Zealand courts have been receptive, and over the past several years have granted Dotcom access to considerable sums of money.
Now, however, one of his main legal adversaries has accused Dotcom of breaching the terms of the asset freeze imposed in 2012. Speaking in the New Zealand High Court, a lawyer for 20th Century Fox said that Dotcom had taken a loan from his lawyers on behalf of a trust for his children.
Speaking for the studio, lawyer Matt Sumpter said the NZ$220,000 (US$154,000) loan amounted to contempt of court, RadioNZ reports.
However, Kim Dotcom's lawyer Ron Mansfield argued that the loan was a new asset that was not covered by the original freezing order and represented an increase in his clients'sassets, not a reduction.
Dotcom has been free to generate new income since the raid on his home but has been required to obtain permission to access seized assets. Last year he said that an allowance of US$15,000 per month was proving a struggle.
That led to a court awarding him $128K per month to live on, including $60K for mansion rent, $25,600 to cover staff and security, plus $11,300 for grocery and other expenses.
However, in recent months he left his famous mansion for a slightly more modest waterfront penthouse at Princes Wharf, a move which should have positively impacted his living expenses.
Since his departure, Dotcom's rented mansion has since been sold for an undisclosed sum. The asking price was NZ$35m (US$24.4m).
But even with the mansion behind him, Dotcom's battles continue.
Following an extradition hearing lasting several weeks, last December a New Zealand District Court judge ruled that Dotcom and his former Megaupload colleagues can be extradited to the United States to face charges of copyright infringement, conspiracy, money laundering and racketeering.
Dotcom immediately filed an appeal. That hearing is now scheduled to take place in just over a month's time and is expected to last several weeks.
As always, Dotcom will put up a spirited fight but even a defeat at this stage won't mark the end of the road.
"The appeal route is High Court, Court of Appeal, Supreme Court," Dotcom previously told TF.
"If I lose, it goes to a decision by Minister of Justice, then to a High Court judicial review of the Minister's decision. Then it's the end of the road."
The process will span extremely interesting times over in the United States, as the spotlight falls on the presidential election and the Obama administration which Dotcom blames for the demise of Megaupload. As a result, Dotcom is happy to stir things up, most recently in a series of Tweets this morning.
What if HC email server was hacked? What if all deleted HC emails are released on October 26th? Happy Birthday? https://t.co/KyDsMtvwuw

— Kim Dotcom (@KimDotcom) July 25, 2016
Dear Hillary, when you are retiring this year call Chris Dodd and thank him. #boomerang@HillaryClinton @MPAA

— Kim Dotcom (@KimDotcom) July 25, 2016