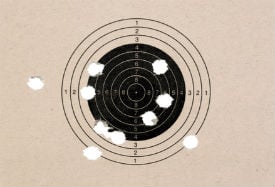 Just a few days ago we posted an article about the dozens of cases independent photographers file against mainstream media outlets.
These lawsuits accuse companies such as CBS, NBC, and Warner Bros of using copyrighted photos without the owners' permission and have resulted in hundreds of settlements this year alone.
While the evidence in these cases is often strong, going up against such powerful companies is not without risk. They have the money and resources to fight back, by any means necessary. This is what New York photographer Jon Tannen has witnessed as well.
In February, Tannen sued CBS Interactive because it used one of his copyrighted photos on the website 247sports.com without being paid. While he hoped this would result in a decent settlement, CBS found a smoking gun and decided to fire back.
A few days ago the photographer was hit with a rather unusual lawsuit. In a four-page complaint, CBS Broadcasting accuses him of posting a copyright-infringing image of the classic TV-show Gunsmoke on social media.
Gunsmoke is one of the longest-running drama TV-shows in US history and aired on CBS from 1955 through 1975. In the complaint, the media giant brands Tannen a hypocrite for posting the infringing CBS screenshots online.
"This copyright infringement action arises out of Defendant's unauthorized use of Plaintiff's valuable intellectual property. Tannen hypocritically engaged in this act of infringement while simultaneously bringing suit against Plaintiff's sister company, CBS Interactive Inc., claiming it had violated his own copyright."
The complaint
The screenshot(s), which we were unable to locate at the time of writing, is taken from the "Dooley Surrenders" episode first aired in 1958. While many would classify a screenshot from a full episode as fair use, CBS is having none of it.
"Without any license or authorization from Plaintiff, Defendant has copied and published via social media platforms images copied from the 'Dooley Surrenders' episode of GUNSMOKE," CBS writes, adding that the "infringement of Plaintiff's copyright is willful within the meaning of the Copyright Act."
CBS says that it's been harmed by the infringing action but it can't determine any actual damages. Instead, it requests statutory damages for willful copyright infringement which can reach $150,000 per work.
Of course, it's unlikely that Tannen will have to pay that. CBS's lawsuit is a clear retaliatory move through which the company hopes to lessen the potential damages for their own alleged infringement.
Posting a screenshot of a TV-episode is on a completely different level than using a full photo in a publication, of course. Still, CBS has shown that it's willing to put up a fight, and with a powerful team of lawyers they are a tricky adversary.
—-
The full CBS complaint is available here (pdf). A copy of Tannen's original suit against CBS Interactive can be found here (pdf).