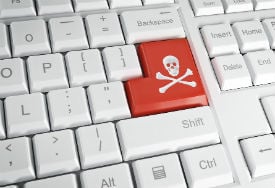 When it comes to the protection of intellectual property, China is often viewed as one of the world's leading scofflaws. Everything is copied in the country, from designer watches to cars. Not even major landmarks can escape the replica treatment.
In more recent times, however, there have been signs that China might be at least warming to the idea that IP protection should be given more priority.
For example, every few months authorities announce a new crackdown on Internet piracy, such as the "Jian Wang 2016" program which shuttered 290 piracy websites in the final six months of last year.
Maintaining the same naming convention, this week China's National Copyright Administration revealed the new "Jian Wang 2017" anti-piracy program. During a meeting in Beijing attended by other state bodies, copyright groups, rights organizations, and representatives from the news media, the administration detailed its latest plans.
The anti-piracy program will focus on protecting the copyrights of the film, television, and news industries in China. Infringing websites, e-commerce and cloud storage services, social networks, plus mobile Internet applications will all be put under the spotlight, with authorities investigating and prosecuting major cases.
The program, which will run for the next four months, has a mission to improve compliance in three key areas.
The first aims to assist the film and TV industries by cracking down on 'pirate' websites, the unlawful use of file-sharing software, plus "forum communities and other channels that supply infringing film and television works."
Also on the cards is a blitz against users of the hugely popular social media and instant messaging app, WeChat.
Released in 2011, WeChat now has more than 930 million users, some of which use the platform to republish news articles without permission from creators. Chinese authorities want to reduce this activity, noting that too many articles are stripped from their sources and reproduced on personal blogs and similar platforms.
The second area for attention is the booming market for pirate apps. Chinese authorities say that cracked app stores and the software they provide are contributing to a huge rise in the unlawful spread of films, TV shows, music, news and other literature. Set-top boxes that utilize such apps will also be targeted in the crackdown.
Finally, there will be a "strengthening of copyright supervision" on large-scale e-commerce platforms that supply audio and video products, eBooks, and other publications. Cloud storage platforms will also be subjected to additional scrutiny, as these are often used to share copyright works without permission.
What kind of effect the program will have on overall copyrighted content availability will remain to be seen, but if previous patterns are maintained, the National Copyright Administration should reveal the results of its blitz in December.