Without entering too deeply into the technical details, the Cinavia anti-piracy system relies on a special type of watermarking which enables it to stay resident in a recording despite re-recording in the digital or analog domain, transcoding, compression, or other type of transfer.
Since 2012 the ability to detect Cinavia signals has been a mandatory feature of all Blu-ray players.
In the Blu-ray environment Cinavia can recognize whether a disc being played has a "theatrical release" watermark. If it does then it knows that the audio was recorded illegally. It can also recognize if a disc has been copied from an original Blu-ray.
The end result is that playing or copying of an unauthorized disc is eventually disabled by the player, be it a hardware Blu-ray player such as the one present in a Playstation 3 for example, or a software based player commonly loaded onto a PC.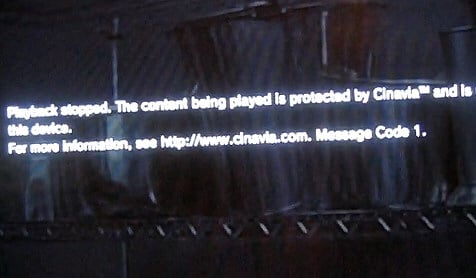 However, a few days ago software company Slysoft released an update to its popular AnyDVD software which hinted in its changelog that Cinavia had been at least partially thwarted.
New: Option to disable Cinavia detection when using AnyDVD with ArcSoft TMT 5.3, TMT 6.0 or PowerDVD 12
After installation, users confirmed that the new feature worked as advertised. Had Slysoft really cracked Cinavia?
Intrigued, TorrentFreak caught up with the company for a comment.
"We haven't really cracked anything," they told us. "We simply disable the software player's ability to see the trigger when AnyDVD is running and doing the Cinavia muting as built into their product."
So rather than a wholesale crack this seems to be more of a workaround for now, but apparently greater things are on the horizon.
"As far as a global 'stop' when playing a burned BD copy we are a long way from that. We are working on a solution to defeat Cinavia in connection with our pending product Slyce since AnyDVD can not do this, but this will not happen until later in the year," Slysoft concludes.