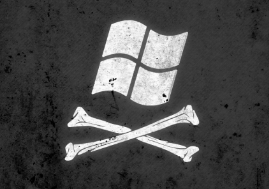 While piracy of movies, TV shows, and music grabs most of the headlines, software piracy is a huge issue, from both consumer and commercial perspectives.
For many years, software such as Photoshop has been pirated on a grand scale and around the world, millions of computers rely on cracked and unlicensed copies of Microsoft's Windows software.
One of the key drivers of this kind of piracy is the relative expense of software. Open source variants are nearly always available but big brand names always seem more popular due to their market penetration and perceived ease of use.
While using pirated software very rarely gets individuals into trouble, the same cannot be said of unlicensed commercial operators. That appears to be the case in Russia where somewhat ironically the Court for Intellectual Property Rights stands accused of copyright infringement.
A complaint filed by the Paragon law firm at the Prosecutor General's Office of the Court for Intellectual Property Rights (CIP) alleges that the Court is illegally using Microsoft software, something which has the potential to affect the outcome of court cases involving the US-based software giant.
Paragon is representing Alexander Shmuratov, who is a former Assistant Judge at the Court for Intellectual Property Rights. Shmuratov worked at the Court for several years and claims that the computers there were being operated with expired licenses.
Shmuratov himself told Kommersant that he "saw the notice of an activation failure every day when using MS Office products" in intellectual property court.
A representative of the Prosecutor General's Office confirmed that a complaint had been received but said it had been forwarded to the Ministry of Internal Affairs.
In respect of the counterfeit software claims, CIP categorically denies the allegations. CIP says that licenses for all Russian courts were purchased back in 2008 and remained in force until 2011. In 2013, Microsoft agreed to an extension.
Only adding more intrigue to the story, CIP Assistant chairman Catherine Ulyanova said that the initator of the complaint, former judge Alexander Shmuratov, was dismissed from the CIP because he provided false information about income. He later mounted a challenge against his dismissal but was unsuccessful.
Ulyanova said that Microsoft licensed all courts from 2006 for use of Windows and MS Office. The licenses were acquired through a third-party company and more licenses than necessary were purchased, with some licenses being redistributed for use by CIP in later years with the consent of Microsoft.
Kommersant was unable to confirm how licenses were paid for beyond December 2011 but apparently an "official confirmation letter from the Irish headquarters of Microsoft, which does not object to the transfer of CIP licenses" had been sent to the Court.
Responding to Shmuratov's allegations that software he used hadn't been activated, Ulyanova said that technical problems had no relationship with the existence of software licenses.
The question of whether the Court is properly licensed will be determined at a later date but observers are already raising questions concerning CIP's historical dealings with Microsoft not only in terms of licensing, but in cases it handled.
In the period 2014-2017, the Court for Intellectual Property Rights handled around 80 cases involving Microsoft and claims of between 50 thousand ($800) and several million rubles.