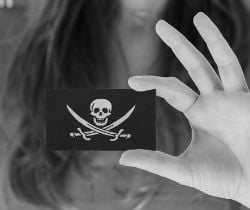 In an effort to curb online piracy, the movie and music industries have reached an agreement with the UK's leading ISPs to send warnings to alleged copyright infringers.
Thus far details on the proposed system have been scarce, leading to the wildest assumptions and in some cases a core misunderstanding of how the process will work.
Earlier this week, for example, the CEO of a smaller UK Internet provider said that he will refuse to join the program as ISPs shouldn't be compelled to monitor everything their customers do. Others fear that they may receive a warning for downloading an MP3 from a file-hosting site, or for streaming a copyrighted YouTube video.
All of the above have nothing to do with the proposed measures.
To clear up some of the confusion TorrentFreak spoke to a source closely involved in the Vcap system. We were informed that Vcap will be part of a larger campaign to inform the public about copyright issues. For this reason, the warnings, or alerts rather, will focus on educating people about how they can access content legally, much like the scheme currently operating in the U.S.
The four ISPs who are confirmed to be involved in Vcap are BT, Sky, TalkTalk and Virgin Media, but other providers could join in at a later stage. Below we have summarized how the Vcap program is expected to work, including several new details.
What will be monitored?
According to information obtained by TorrentFreak the Vcap system will only apply to P2P file-sharing. In theory this means that the focus will be almost exclusively on BitTorrent, as other P2P networks have relatively low user bases.
Consequently, those who use Usenet providers or file-hosting services such as 4Shared, RapidShare and Hotfile are not at risk. The same is true for those who use streaming sites. In other words, the Vcap program only covers part of all online piracy.
Will all P2P file-sharers receive a warning?
TorrentFreak has learned that not all P2P file-sharers will receive a warning. The system will focus on people whose Internet accounts have been used to share copyrighted material more than once. This is different from the U.S. model where people get an alert after the first offense.
The focus on repeat infringers is a logical choice since there are millions of file-sharers in the UK and the copyright holders and ISPs have agreed to cap the warnings at 2.5 million over three years.
Who will be monitoring these copyright infringements?
While ISPs take part in the scheme, they will not monitor subscribers' file-sharing activities. The tracking will be done by a third party company. The most likely candidate is MarkMonitor (Dtecnet) who are also the technology partner for the U.S. Copyright Alert System.
This tracking company collects IP-addresses from BitTorrent swarms and sends its findings directly to the Internet providers. The lists with infringing IP-addresses are not shared with the record labels, movie studios or other third parties.
Each ISP will keep a database of the alleged infringers and send them appropriate warnings. If the ISPs get approval from the Information Commissioner's Office, recorded infringements will be stored for a year after which they will be deleted.
Will any Internet accounts be disconnected?
There are no disconnections or mitigation measures for repeat infringers under the Vcap program. Alleged file-sharers will get up to four warnings and all subsequent offenses will be ignored.
The source we spoke with clarified that it's not the intention of Vcap to stop the most hardcore file-sharers. The program is mostly focused on educating casual infringers about the legal alternatives to piracy.
Can the monitoring be circumvented?
The answer to the previous questions already shows that users have plenty of options to bypass the program. They can simply switch to other means of downloading, but there are more alternatives.
BitTorrent users could hide their IP-addresses through proxy services and VPNs for example. After the U.S. Copyright Alert Program launched last year there was a huge increase in demand for these kind of anonymity services.
So how scary is the Vcap anti-piracy plan?
While we can't say anything too conclusive, it appears that the main purpose is to inform casual infringers about their inappropriate behavior. The focus lies on education, although the warnings also serve as a deterrent by pointing out that people are not anonymous. For some this may be enough to switch to legal alternatives.
All in all the proposed measures are fairly reasonable, especially compared to other countries where fines and internet connections are on the table. Whether it will be successful is an entirely different question of course, and one which will only be answered when the first results come in.
Finally, it's worth noting that if Vcap fails it's not automatically a win for the pirates. A few months ago the Government promised to "bring the Digital Economy Act into force as soon as practicable," which will result in more stringent anti-piracy measures.