Opponents of website blocking often argue that it's ineffective, as people have many options to circumvent censorship.
We have seen examples of this in the past when courts ordered popular torrent sites such as The Pirate Bay and KickassTorrents to be blocked.
Last week, the Internet witnessed one of the broadest website blockades in history. With a single order the Indian Government blocked millions of people from accessing popular porn sites.
The authorities argued that the sites threaten the morality and decency of Indians but following a public revolt the Government lifted the ban after just a few days.
Since the measures affected millions of Internet users we decided to take a look at the effects the blockade had on interest in circumvention tools such as VPNs and proxies. With help from Google trends, we can show that it was quite significant.
As soon as the blocks became active searches for "VPN" spiked in India, as shown in the graph below.
VPN search trends in India (90 days)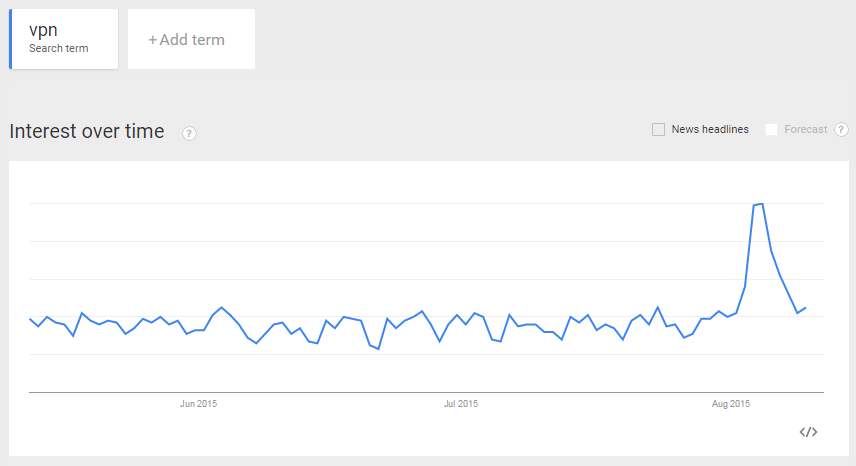 Similarly, Indian searches for "proxy," referring to proxy sites that allow users to bypass ISPs blockades, went up as well.
Based on these two search trends it is safe to say that even if the Indian Government had decided to keep the porn ban intact, it's effectiveness would be rather limited.
Proxy search trends in India (90 days)
The response to India's censorship efforts are another shining example of how Internet users find ways to bypass access restrictions in the Internet. Whether it's porn or torrents, people usually find a way.
To quote John Gilmore once again: "The Net interprets censorship as damage and routes around it."
Proof of the ineffectiveness of Pirate Bay blockades was previously highlighted by several Dutch and UK Internet providers. Similarly, an Italian study found that local blocking efforts moved traffic to other pirate sites.