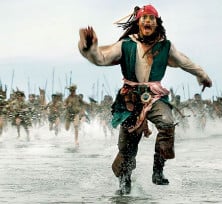 In recent years Hollywood has tried several tactics to deal with so-called pirate sites.
Through lawsuits against isoHunt, Hotfile and Megaupload, for example, or by targeting intermediaries such as search engines, Internet providers and hosting companies.
The most direct option, however, is to simply contact the site owners directly. This is what the MPAA's European branch has been doing lately.
During recent weeks various sources have informed TorrentFreak about emails received from Jan van Voorn, the MPA's Vice-President Global Content Protection, Internet Operations. The emails all use standardized language and have been sent to a wide variety of services ranging from some of the biggest torrent indexes, to linking sites and hosting services.
The MPA mail puts the site operators on notice and alerts them to European jurisprudence under which they may be held liable for linking to pirated movies and TV-shows.
"Without prejudice to our contention that you are already well aware of the extensive infringements of copyright, this Notice fixes you with actual knowledge of facts and circumstances from which illegal activities […] are apparent," Van Voorn writes.
Among other things the email mentions that Article 14 of the E-Commerce Directive requires sites to stop offering infringing material. In addition, the Hollywood group cites other recent cases supporting their claim.
Without making a specific threat, the MPA demands that site operators stop offering infringing material within 24 hours.
"This Notice requires you to immediately (within 24 hours) take effective measures to end and prevent further copyright infringement. All opportunities provided by the Website to download, stream or otherwise obtain access to the Entertainment Content should be disabled permanently," the email reads.
Interestingly, the movie studios are not just worried about pirated films. Towards the end of the email they also point out that some sites are using movie posters without permission.
"Finally, we draw your attention that any use of the artwork of the Entertainment Content (e.g. movie or TV show posters) ('Artwork') is prohibited without authorization of the rights holder. Since the MPA Members haven't authorized the Website to publish the Artwork, the Website is infringing copyright on that basis as well," Van Voorn writes.
For now the threats haven't made too much of an impact. Only one site that we know of has shut down after receiving the email recently, and that's the relatively unknown link site micromkv.com.
TF contacted the movie industry group for more details on the efficiency of the campaign. The MPA didn't provide any details but informed us that the emails are standard notices sent to websites that carry infringing content.
"These notices ask respectfully that effective measures be taken to stop further infringement," an MPA spokesperson says.
"This activity is part of the MPA's ongoing strategy to curb copyright infringement, encourage consumers to use legal sources of content and increase the viability and quality of those services that actually pay creators for their work."
It remains unclear whether the MPA will take legal action against the warned sites, or if the group will focus its anti-piracy efforts elsewhere.
—
One of MPA's emails is posted in full below.