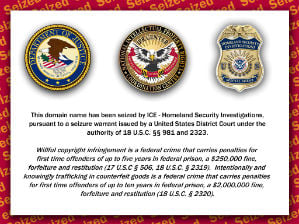 During the spring of 2010 U.S. authorities started a campaign to take copyright-infringing websites offline.
Since then Operation in Our Sites has resulted in thousands of domain name seizures and several arrests. While most of the sites are linked to counterfeit goods, dozens of "pirate" sites have also been targeted.
After a period of relative calm the authorities appear to have restarted their efforts with the takedown of two large music sites. RockDizFile.com and RockDizMusic.com, which are connected, now display familiar banners in which ICE takes credit for their demise.
"This domain has been seized by ICE- Homeland Security Investigations, pursuant to a seizure warrant issued by a United States District Court under the authority of 18 U.S.C. §§ 981 and 2323," the banner reads.
TorrentFreak contacted ICE yesterday for a comment on the recent activity but we have yet to receive a response.
The domain names are now pointing to the same IP-address where many of the previously seized websites, such as torrent-finder.com and channelsurfing.net, are directed. Both domain names previously used Cloudflare and had their NS entries updated earlier this week.
Despite the apparent trouble, RockDizFile.com and RockDizMusic.com's Twitter and Facebook pages have remained silent for days.
RockDizMusic presented itself as an index of popular new music. Artists were encouraged to use the site to promote their work, but the site also featured music being shared without permission, including pre-release tracks.
RockDizMusic.com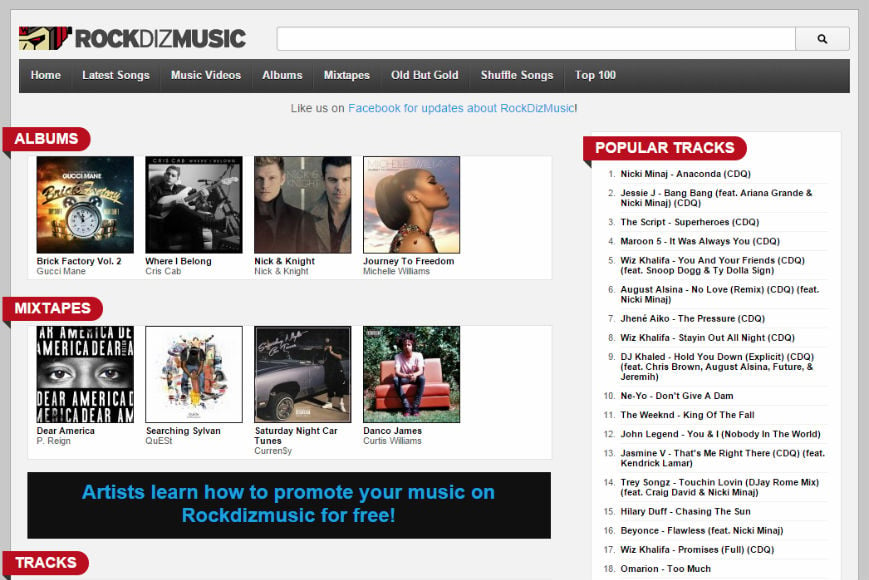 RockDizFile used a more classic file-hosting look, but with a 50MB limit it was mostly used for music. The site offered premium accounts to add storage space and remove filesize and bandwidth limitations.
RockDizFile.com

Both websites appear to have a strong focus on rap and hip-hop music. This is in line with previous ICE seizures which targeted RapGodFathers.com, RMX4U.com, OnSmash.com and Dajaz1.com.
The latter was seized by mistake. The record labels failed to deliver proof of alleged infringements to the authorities and after a long appeal the domain was eventually returned to its owners.
This incident and the general lack of due process of ICE's domain seizures has led to critique from lawmakers and legal scholars. The authorities are nevertheless determined to keep Operation in Our Sites going.
"Operation In Our Sites' enforcement actions involve federal law enforcement investigating and developing evidence to obtain seizure warrants from federal judges," ICE states on its website.
Once a credible lead comes in ICE says it "will work with the U.S. Department of Justice to prosecute, convict, and punish individuals as well as seize website domain names, profits, and other property from IP thieves."
At this point it's unclear whether ICE has targeted any of the individuals connected to RockDizFile.com and RockDizMusic.com or whether the unit has taken down any other sites in a similar fashion.