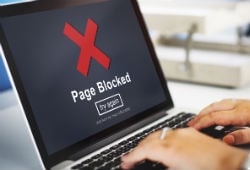 The list of websites that are blocked in the UK for facilitating copyright infringement is growing longer and longer.
In a new ruling, the High Court orders Sky, BT, Everything Everywhere, TalkTalk, Telefonica UK and Virgin to block access to over a dozen 'pirate' streaming sites.
The new blocking request was issued following a complaint from the Motion Picture Association Europe (MPA), which acts on behalf of several major Hollywood movie studios.
Among the new sites are the popular streaming portal 123movies.to, Genvideos.org, Hdmovieswatch.net and Spacemov.net.
The 123movies.to website is by far the largest target on the list. The site is currently the most used pirate site in the UK, and attracts millions of daily visitors around the globe.
While the looming blockade will result in a temporary reduction in traffic, 123movies is already anticipating such measures. The streaming portal currently features a message alerting people that they have an alternative .ru domain available that may help to bypass blockades.
"You can access out site through http://123movies.ru domain if the main domain is blocked by your ISP," the alert reads.
TorrentFreak has confirmation from one of the large UK Internet providers that the court order has been granted. However, at the time of writing the new blockades have yet to be put in place by most ISPs.
As in previous cases, the latest blocking application was not seriously contested by the ISPs, which have given up on defending their position in court. As a result, it is now a mere formality for copyright holders to have a pirate site banned.
In addition, rightsholders have the freedom to add new domains without the need for a new court order if a blocked site decides to move to a new home. This will be needed, as sites such as GeekTV and Themovie4u already moved on.
Whether the present blocks will be more than a drop in the ocean has yet to be seen. There are many other streaming portals that are still available, which means that the movie studios will probably be back in court soon enough.
—
The full rundown of newly blocked sites is as follows. This list was released by a large UK ISP.
123movies.to, Geektv.is, Genvideos.org, Gowatchseries.biz, Hdmovies14.net, Hdmovieswatch.net, Themovie4u.com, Moviesub.net, Movietubenow.biz, Series-cravings.me, Spacemov.com, Streamallthis.is and Watchmovies.ms.