In recent years, a wide variety of companies have filed lawsuits against sellers of pirate set-top boxes.
Several of these cases target devices that cater to the Asian market and haven't received a lot of press, but a recent order against the company behind the BTV set-top box caught our eye.
The case in question was filed by a group of rightsholders including Asia TV, Star India, Viacom18, and Dish Network. In their complaint, they accuse Hong Kong-based 'Dibia Networks Limited' of running a pirate broadcasting network by retransmitting copyrighted channels.
"Dibia has built its business model around blatant copyright infringement, brazenly advertising and promoting the capability of the BTV device to provide users with infringing streams of the Copyrighted Programs," it reads.
As is often the case in piracy-related lawsuits, Dibia did not defend itself. As a result, the rightsholders moved for a default judgment which includes a rather broad permanent injunction.
The companies requested the maximum statutory damages for 44 separate TV episodes and that is exactly what they got. In a recent order, New York District Court Judge George Daniels awarded a total of $6.6 million in damages.
It's questionable whether the rightsholders will ever see a penny, but an associated permanent junction gives them a lot of options to make sure that the BTV set-top boxes remain offline.
Aside from restraining Dibia from engaging in any infringing activities, it directs domain name registrars and registries to disable BTV's websites, and transfer the domains to the rightsholders. This includes BTVBox.com, which has been signed over to Dish Network.
These domain takeovers are not new but the injunction goes further than that, mentioning various third-party intermediaries who are compelled to cut their ties with servers or sites that are linked to BTV the boxes or apps.
This includes companies that are involved in "sales, distribution, shipping or logistics services," for the set-top boxes, but also "back-end service providers, service providers routing traffic or providing bandwidth, content delivery networks, and domain name server systems," for the associated sites.
This order is rather broad, particularly in respect of the companies that route traffic, which could include the Tier1 networks that form the Internet's backbone. The term 'DNS systems' can be interpreted broadly as well, adding virtually every ISP into the mix.
Whether this is the intention of the rightsholders is unclear, as they list CloudFlare, Incapsula, and DNSPod as examples. The latter two don't offer DNS servers, but host DNS entries for customers instead.
From the injunction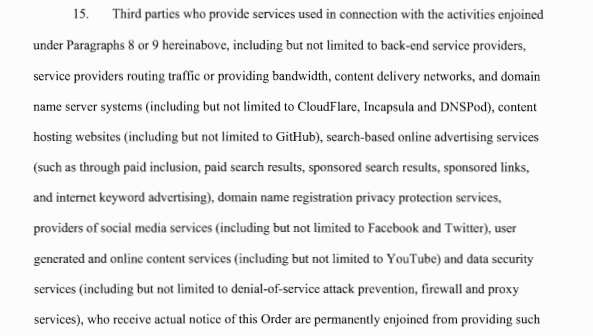 The injunction goes on to mention several other third-party intermediaries, including "content hosting websites," "domain name registration privacy protection services," "providers of social media services," "user-generated and online content services," and "data security services."
Again, it lists examples of services that are covered by the language above, such as GitHub, Twitter, Facebook, and YouTube.
While the language is very broad, we have to keep in mind that this is a default judgment. The defendant chose not to fight the case, and none of the mentioned intermediaries had their say.
At the time of writing, there is no indication that any of these intermediaries are being or will be approached to enforce the order. This may not be needed, as BTV's websites appear to be offline.
That said, the order opens the door for similar broad requests.
Interestingly, this is not the first time this kind of language has been seen in US courts. The MPAA's member studios previously requested a similar order in their case against MovieTube. However, this didn't make it into the final permanent injunction, as happened here.
At the time, the EFF warned that such an order would give movie studios "the power to force practically every Internet company within the reach of U.S. law to help them disappear the MovieTube websites."
In the present case, the order passed quietly. RapidTVNews picked it up this week, but surprisingly little attention is being paid to the order thus far.
—
A copy of the default judgment and injunction is available here (pdf).