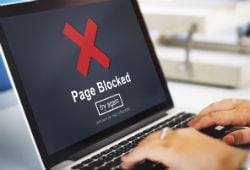 After winning three lawsuits against three pirate streaming sites, earlier this year a coalition of Israel-based media companies obtained an injunction at a New York court.
Every single ISP in the United States was required to block three sites, now and forever, on any domain in existence, now and in the future. Any and all web-based businesses were forbidden from doing any business with the defendants in perpetuity, despite their identities being completely unknown.
Thanks to public access to court records, it was possible to quickly show what can happen when private companies are handed extraordinary powers. Cloudflare, Google, and others later protested the injunction – not its overall goals as such, but its nuclear approach to enforcement.
Massive Opposition
Under intense pressure after openly threatening Cloudflare, the entertainment companies later agreed to more sensible terms in a modified injunction.
Crucially, all of the proceedings and legal documents were publicly available through PACER. The injunction was exposed as completely unenforceable, but the specific factors that led to that conclusion were equally important. This won't be the last blocking and/or seizure injunction with a mission to break new ground in the United States, and it's not over yet.
Transparency: A Necessary Nuisance
In ISP blocking cases, 'dynamic injunctions' allow new domains to be added to existing orders, to maintain pressure on pirate sites. The injunction initially obtained by the entertainment companies allowed them to have new domains seized, not just blocked, purely on their say-so, no court needed.
The amended injunction requires the court to be involved, which is good for transparency. Perhaps inevitably, the plaintiffs' first step before adding new domains was to file a request with the judge to have information hidden from public view.
Motion to Amend Injunction Because [REDACTED]
It is not uncommon for entertainment companies to seek privacy in blocking and seizure cases. They want to hide their next move from the targeted sites and don't want to publicize pirate platforms. What arguments the plaintiffs have here is hard to fathom, thanks to the following letter (pdf):
Balancing the plaintiffs' needs with the public's right to see justice being done can be delicate. On one hand, pirate sites are known to take countermeasures, so the less they know the better. On the other, an unenforceable injunction appears to have been used to seize a domain that was never used for piracy, while the FBI seal was placed on other seized domains, despite no FBI involvement in the case.
Whatever balancing exercise took place, the court sided with the plaintiffs late last week. When attempting to access most documents filed since then, access is denied by PACER, but at least one entry has been left open.
Proposed Second Amended Permanent Injunction: Israel.tv
When attempting to put streaming site Israel.tv out of action, the plaintiffs previously identified Israel.tv, Israeli.tv, IsraelTV.com, Israel-tv.xyz, Israeltv.to and Zira.to as targets.
The entertainment companies now have a list of "newly discovered or updated domains" to add to the list: Israeltv.se, Israeltv.nu, Israeltv.su, Isratv.ru, Israeltv.am, Israeltv.la, Israeltv.bz, Israeltv.hk, Israeltv.eu, Israeltv.is, Isr.live, Isr.dev and Sup247.me.
A more unusual addition is https://xn--0tr80i11eca131dda736e5v4b0duga450wha.xn--55qx5d. This is an Internationalized Domain Name and when converted looks like this: https://帕拉赞蒂和科夫曼帕拉赞蒂.公司.
The plaintiffs have also presented additional domains for seizure in a separate document. That is under seal, so the nature and quantity of domains are both unknown. A separate request contains seven URLs related to an app on Google Play called Israel Radio – TV Version. The plaintiffs want an order that prevents the defendants from operating it.
The final demands in respect of Israel.tv relate to accounts held by its operators on other platforms including Facebook, various URL shorteners, a messenger account on ProtonMail, an account on crypto platform MoonPay, and a domain that immediately drops an APK on visitors' machines. Another document, again under seal, contains the details of other accounts but on which platforms is unknown.
In this action, the plaintiffs are also determined to shut down Sdarot, Israel's largest pirate streaming service. We presume new measures to be taken against that service are detailed in the docket entries that remain inaccessible but we have no way of confirming that.
Meanwhile, both of these services appear to be still operating. We're informed by a source familiar with the operations of one site that measures taken so far are taking their toll but there are no plans to shut down.
Sdraot recently announced a new login and email verification requirement and is already directing users to a Telegram channel to make payments. There's a determination to press on but this isn't 'business as usual'. That being said, a Google search for 'Sdarot' lists new domains on the very first page.