Vuze is one of the most recognized BitTorrent brands. Their client is used by millions of people each day and has a steadily growing user-base.
In recent years Vuze's BitTorrent client has evolved into an all-in-one download solution. With built in search, DVD-burning capabilities and device integration the Vuze team has set itself aside from other popular BitTorrent clients.
Last year Vuze announced that device integration in particular is a highly appreciated and frequently used feature among users. Millions of people have already hooked up their Xbox 360, PS3, iPhone and Android devices to Vuze, and the developers have been working hard to support as many devices as possible.
This week Vuze made a giant step forward by adding DLNA support, which makes the BitTorrent client compatible with thousands of new devices. DLNA is a networking standard supported by all major consumer electronic brands. It can be found in many of the newer TVs, set-top boxes, tablets, NAS devices and more.
"Today, we're continuing this crusade to unleash your content on your mobile and TV screens by adding all DLNA-supported devices, a few additional Android devices, and more," the Vuze team announced.
"With this release, most DLNA-supported devices should now show up in your Vuze Sidebar – assuming they're connected to the same home network as Vuze – making it possible to stream directly from Vuze to the DLNA device of your choice. Once you spot your device name under Device Playback in the Sidebar, simply drag-and-drop."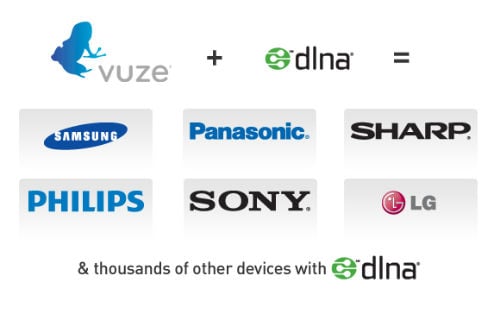 With this update Vuze users can now easily stream movies to their DLNA supported TVs. It also makes it very easy to copy downloaded files to external hardware such as NAS storage devices, tablets, game consoles and laptops. A drag-and-drop is sufficient to transfer or stream the files.
The timing of the new Vuze release appears not to be totally coincidental. Earlier this week Vuze's main competitor uTorrent introduced device integration in an early alpha release, supporting a handful devices. Vuze delivered their announcement sortly after, emphasizing that they've had this feature for more than two years already, and that Vuze is now compatible with tens of thousands of devices.
"Yes, we launched these features years ago, unlike some other very tiny clients that are just getting around to it now ;)," the Vuze team teased.