Last October, the Alliance for Creativity and Entertainment (ACE) filed a lawsuit against the Georgia-based company Tickbox TV, a seller of Kodi-powered set-top boxes that stream a variety of popular media.
ACE sees these devices as nothing more than pirate tools and earlier this year it found the court on its side.
In January, a California federal court issued a preliminary injunction, ordering Tickbox to keep pirate addons out of its box and halt all piracy-inducing advertisements going forward.
Following this order, both sides got together and today mutually agreed judgment in favor of the Hollywood giants.
The parties just submitted a proposed stipulated judgment and permanent injunction to the court to resolve their dispute. This comes at a significant cost for Tickbox, which also has to comply with several anti-piracy restrictions.
The judgment is entered for contributory copyright infringement as well as inducing copyright infringement. It requires Tickbox and its owner to pay $25 million in damages.
"Damages are awarded in favor of Plaintiffs and against Defendants TickBox TV, LLC and Jeffrey Goldstein, jointly and severally, in the total amount of twenty-five million dollars ($25,000,000)."
The proposed judgment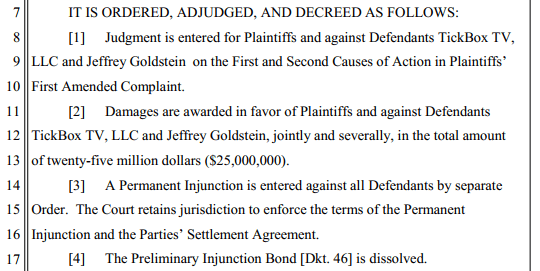 Tickbox and its owner must also comply with the agreed permanent injunction. This stipulates that they remove all tiles, menus and other options which allow users of the company's boxes to directly or indirectly access third-party cyberlockers or streaming sites associated with piracy.
If ACE or its members notify Tickbox of any infringing links or content, these must be removed from Tickbox devices within 24 hours, weekends excluded.
Both the proposed stipulated judgment (pdf) and permanent injunction (pdf) have yet to be sanctioned by the court. However, since both parties have reached an agreement this is only a formality.
ACE spokesperson Jolyon Kimble notes that the coalition is happy with the outcome, which they say will compel Tickbox to immediately cease all piracy activities.
"TickBox and many other piracy devices and streaming apps are a threat to the millions of creators around the world who make films and television shows," Kimble says.
"Today's stipulated judgment and permanent injunction is a significant victory for ACE and the creative community, ensuring TickBox will no longer sell illegal access to pirated movie and television content."
According to ACE, the stipulated orders set an important legal precedent. However, the legal battles are far from over. The Tickbox case was the coalition's first and has been resolved, but similar lawsuits against Dragon Box and Set TV remain pending.