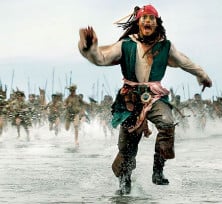 For more than a decade copyright holders have been monitoring pirated downloads of their work on various file-sharing networks.
Traditionally these efforts have focused on the United States where ISPs are required to forward takedown notices to their account holders.
A recent trend has seen these notices become more than mere warnings. Companies such as CEG TEK and Rightscorp also tag on settlement requests, hoping to recoup some of the damages allegedly caused by file-sharers.
Since these requests are sent as DMCA notices, copyright holders do not have to involve the courts. Nonetheless, the 'fines' can be as high as several hundred dollars per shared file. Thus far these "automated fines" have been limited to the United States, but soon they will expand to Japan, with Australia and Canada next on the list.
TorrentFreak spoke with CEG TEK's Kyle Reed who confirmed that they will soon start their piracy monetization service in Japan. At the same time the company will run various tests to see how Aussie and Canadian Internet providers respond to their notices.
"Increased coverage for our monetization clients in additional countries has always been top of mind. We have a base of international clients, some of which call these countries home," Reed tells TorrentFreak
"Canada and Australia are both hot topics with rights owners and the market conditions afford us the opportunity to initiate ISP compliance testing," Reed adds.
If the notice forwarding goes well with the ISPs, and there are decent response rates, the company will also begin sending out settlement requests in Australia and Canada.
Internet providers have to be tested in advance, because the settlement scheme fails if ISPs ignore or modify the notices. For example, in the U.S. many of the larger ISPs forward the notice without the actual settlement offer.
CEG TEK is not the only piracy monetization service to consider international expansion. Previously Rightscorp announced that it was interested in offering its services in Canada.
Whether Internet providers in Australia and Canada are willing to cooperate has yet to be seen. In Canada there is currently no legal obligation for ISPs to cooperate, although this will change soon. Australia has a notice and takedown policy but this doesn't require ISPs to forward the settlement requests.
According to CEG TEK their settlement services are superior to traditional anti-piracy warnings since they stop more unauthorized transfers while making money in the process.
"In the United States and around the world, traditional peer-to-peer anti-piracy methods have proved to be largely ineffective. We have the only peer-to-peer solution shown to decrease infringements and repeat offenders, as well as return monetary settlements to rightful copyright owners," Reed says.
The irony is of course that these companies will render themselves obsolete if they become too effective, but for now there are still plenty of pirates around.