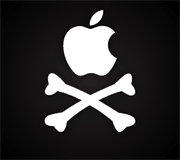 After years in the making, last Thursday a new law came into force in Russia designed to quickly remove piracy-enabling apps from the download stores of companies including Apple and Google.
The legislation requires Internet distribution platforms to quickly respond to allegations of copyright infringement by either asking developers to remove their 'pirate' apps or if that proves fruitless, to remove them anyway. Failing to do either could result in platforms operated by Apple, Google and other entities being blocked by local ISPs.
Record Labels Quickly File Complaints
In an apparent move to test the new legislation, three major record labels – Sony Music Entertainment, SBA Music Publishing (part of Warner), and Universal Music – quickly filed complaints at the Moscow City Court on the day the law came into force.
Roman Lukyanov, CEO of Semenov & Pevzner, a local law firm specializing in copyright protection and representing the labels, told Kommersant that the applications for interim measures against three apps were filed on October 1, 2020, listing Apple as the defendant.
The applications request that local telecoms watchdog Roscomnadzor takes action "to stop creating conditions" that allow for the illegal distribution of copyrighted works by a handful of local artists. However, tests on the apps in question reveal that the infringements go much, much further than that.
PewPee: Music Player
Currently still available via Apple's App Store, PewPee: Music Player provides a Spotify-like experience for users. People must sign up for an account to gain access but are then presented with a comprehensive music search engine, genre picker, plus other features such as playlist and favorite creation.
Where PewPee sources its music from is unclear. Similar apps often act as an interface for YouTube audio but checking the source code of the app and its background site reveals that they are actually distributing MP3 files of the selected tracks, rather than pulling them from YouTube on request.
Users of the PewPee app are able to download their favorite tracks to their own devices for offline listening too, another feature usually considered a clear red line for the record labels. Also, visitors to the PewPee site can do exactly the same using basic browser tools, which reveal the precise URLs of the music in question which are obtainable as one-click downloads.
iMus Music Player
"iMus is a powerful music streaming app with incredible features which lets you play your favorite music video. and you can browse, listen to unlimited music video and Search hottest, top & trending songs, artists, albums & genres," reads the application's description on the App Store.
iMus (which on the store itself is listed as 'X Musii Play Music Streaming') is listed by Apple as the 104th most popular app in its 'Music' category.
While it claims to play videos, the iPad variant tested plays only music, which appears to be pulled from YouTube. Whether there are bugs yet to be sorted remains unclear but the software is best described as unfinished and irritating. Videos adverts with audio constantly play over the top of selected tracks, which appear to randomly cut in rather than playing from the start.
Offline Music Download Music/ Music Downloader & Player
This app appears to offer two types of functionality – the ability to watch YouTube videos within the app and listen to other music pulled from elsewhere. YouTube videos don't appear to have a download function but other tracks can indeed be downloaded to an iOS device.
In any event, the tool has lots of advertising which are either presented as pre-roll videos or in the same irritating full-screen fashion as iMus before tracks are played. After seeing the 10th suspicious ad for the same 'unhackable phone', the option to use the app without ads seems a little more attractive – but even that's overstating things.
As the image above shows, when the app first launches users are presented with a slick splash screen offering a subscription-based ad-free service that will bill an Apple account if allowed to. Considering that YouTube already exists for free (and at the price Spotify is a much better option) the request for cash feels like a bit of an insult to users and artists alike.
Labels' Injunction Applications Are a 'Test Run'
Representing the labels, Roman Lukyanov of Semenov & Pevzner says that the cases filed with the court are a 'test run' and that other copyright holders are standing by to see how things go. Maxim Ryabyko of local anti-piracy group AZAPI says that his members intend to make use of the new law in the future, particularly against Google's Play Store.
In comments to Kommersant, Ryabyko described the current interaction with Google as "leaving much to be desired", noting that Telegram is also "extremely reluctant to remove pirated content".
According to an announcement yesterday from Roscomnadzor, both Google and Apple have been sent letters asking them to provide contacts for "operational interaction" when it comes to the execution of court decisions, i.e the rapid removal of piracy-enabling apps as the new law requires.
While that may go to plan, it remains a question why the labels didn't send simple DMCA notices to Apple which would've required them to remove the apps listed above even more quickly.