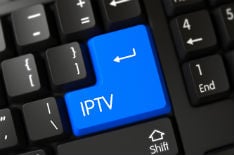 Over the past several weeks, users of pirate IPTV service Beast IPTV have been reporting numerous issues with their accounts.
Some initial downtime coupled with an inability to make new payments, an obvious lack of customer support, then a complete disappearance of the service itself, all provided the tell-tale signs of a platform on the way out. The big question was why.
As is common in IPTV circles when a service shows signs of stress, rumors had been circulating for some time that Beast was in trouble. While technical issues are always an option, when site staff go dark and information is hard to come by, theories of legal problems are never far away. It now appears that could be what Beast is facing.
Two Shutdown Messages Provide Some Guidance
Over the past couple of days, Beast appears to have published two announcements to its users but while both read along the same lines, one offers considerably more information than the other.
"BEAST IPTV HAS BEEN FORCED TO SHUT DOWN," the shorter variant reads.
"We wanted to get this message out to let everyone know that the service is gone for good and will not be returning. If someone is telling you beast has moved or become another service this is untrue and we are advising you to take caution when dealing with these people. We cannot get into details as to why the service has been shut down."
It continues by explaining that Beast was "left with no choice but to CLOSE everyone's account and TURN OFF all services to protect its data."
Second Announcement Indicates Legal Action
The second message, which appears to have been issued first and was pasted by concerned users of the service on social media, offers considerably more information. Worryingly, it seems to confirm that legal action was responsible for the closure of the platform.
"We wanted to get this message out before the court order to take over the Beast domains is completed and all forms of communication with its customers will cease," it begins.
"U.S. & Canadian Authorities served legal documents to Beast and its service providers from companies such as Disney, Netflix, Bell Media, Warner Bros, and other companies. The court order states all domains, servers, client data etc. will be seized. It further states that Beast IPTV and its providers must shut down its service immediately while the court orders go into effect."
Notable Similarities With Vader Shutdown in 2019
Even without the additional detail provided in the longer message, the manner in which Beast faded away and then ultimately shut down fits the pattern of behavior displayed by other services targeted by the entertainment companies mentioned above. Indeed, the demise of the Vader IPTV service in 2019 seems to provide an obviously similar template.
That platform shut down following action by the Alliance For Creativity and Entertainment following a legal process in Canada. That matter ultimately ended in a $10m settlement but took months to be officially announced.
Under the instruction of the court, it also required Vader to "cede administrative control" over its entire "piracy infrastructure". If the details in the long statement from Beast are accurate, there appears to be a strong possibility that the Vader situation will be mirrored at Beast. Currently, the usual signs indicating domain seizures by ACE have not yet appeared, however.
Warning to Users Regarding Chargebacks
When customers pay for a service or product using a financial tool such as a credit card but don't go on to receive what they paid for, it is possible to carry out a chargeback. If this process is successful, the customer can reclaim the money spent and have it credited back to their payment method. In both announcement variants, Beast advises former subscribers to avoid that.
"Beast was left with no choice but to CLOSE everyone's account and TURN OFF all services to protect its data. Please DO NOT CHARGE BACK because you will be at RISK of exposing your personal information to the authorities. Any account that is refunded or if a Chargeback occurs, it will trigger the payment processor to send info back to the domain which will be in the hands of the authorities," one notice reads.
The second provides a little more detail, advising it will "trigger the payment processor to send info back to the domain which will be in the hands of US and Canadian authorities."
Instead, Beast is urging former customers to contact them directly but whether many will is open to question. While there will be no shortage of people who would like a refund, keeping their distance from the obviously compromised service might be the preferred option for the more cautious.