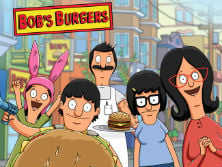 The new TV-season started last week with the debut of several new series, including the animated sitcom Bob's Burgers on Fox. As with all TV-shows, the first episode of Bob's Burgers also ended up on BitTorrent, where one downloader stands out above the rest.
In a torrent discussion at Demonoid.me, the largest semi private BitTorrent community, a commenter with the nickname "TANP1′ claims to have a special relationship with the show. Unlike the regular downloaders, he is actually involved in the production of Bob's Burgers, or so he claims.
"Nice to hear that people liked the show, I'm an animator on it so it's nice to hear something positive from all the negative I've been hearing about! I'm going to keep seeding to support my show," TANP1 wrote a few hours after the torrent was published on Demonoid.
Of course, anyone can claim to be an animator of the show, but as we will point out later in this article this one turns out to be legit. This is where it gets interesting.
Other commenters on Demonoid seem to be genuinely surprised and honored that one of the animators approves of their actions, since makers of such big productions are generally negative towards 'unauthorized' downloads. In a follow up comment TANP1 adds some more insider insights to the 'sharing' crowd.
"There are 13 eps for the show coming out, they've been well received by the everyone at the studio so far so we're hoping everything will turn out and it'll gain more of an audience as it goes," he says.
The commenter went on to further state that if you view to end credits his name is listed there.
With that last comment TANP1 did give away more than he might have wanted to do. It is of course great that someone from the production team of a popular show approves of torrenting, and we welcome such an open stance. But, at the same time we got very curious about the identity of the torrenting animator, if only to verify the legitimacy of his claims.
Since it's hard to hide something on the internet nowadays, it only took a few Google searches to find out that the nickname and the birthday of the commenter are linked to an animator featured first in the credits list of the episode. So, the story seems to check out and we applaud TANP1 for making Bob's Burgers available – in more ways than one.
Update: We've been in contact with the animator and agreed to alter some of the info mentioned in the above article to address his concerns.