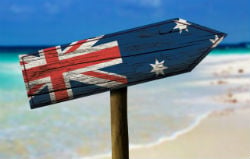 Music and video piracy grab most headlines, but there's also a thriving market for pirated copies of books.
Due to their small size, ebooks can be passed around without much trouble. With a file size of just a few megabytes, at most, they can easily be attached to an email.
This is also what happened with the memoir of former Australian Prime Minister, Malcolm Turnbull. Although the official release is today, the book was being sent round en masse over the weekend, reaching the highest levels of Australian politics.
While it's understandable that Turnbull's former colleagues want to read all the juicy details first, they are not allowed to. Passing around copies of the book without permission is considered piracy, that's something lawmakers should be well aware of.
After discovering the unauthorized sharing, Turnbull and his publisher Hardie Grant, decided to take action. They identified a top adviser of Scott Morrison, the current prime minister, as one of the senders.
The publisher reportedly alerted its law firm which sent the advisor a cease and desist notice accusing him of sending pirated copies of the book to dozens of people over email.
"It has occurred on a massive scale. Further, that you are encouraging others to also distribute it. Such an act is calculated to cause irreparable harm and damage to my clients," the notice, reported by The Age, reads.
The law firm urged the advisor to immediately stop this infringing activity and save all related communication for future investigation. This includes potential legal action.
"My clients will be proceeding against this malicious conduct and infringement of copyright immediately," the publisher's law firm wrote.
The strong language caused shockwaves across the highest echelons of Australian politics, with even the prime minister himself being asked to comment on the unusual piracy allegations.
While the current prime minister hasn't personally commented, his advisor, identified by the Guardian as Nico Louw, did respond. Louw reportedly apologized for sharing a pirated copy of the memoir to 59 people.
The pirated book also became a hot topic at ABC's political discussion program Insiders. There, Australia's foreign minister Marise Payne said she "received and deleted" a copy herself, encouraging others "to do the same thing."
This comment piqued the interest of the book's publisher, especially because the minister refuses to say who sent her the book. Sandy Grant, a chief executive at the publisher, suggested they might even subpoena politicians to get more details.
The publisher wants to get to the bottom of the matter and Grant said they plan to make a referral to the Australian Federal Police.
"When I watch a senior government minister saying they received stolen goods but can't help us know where they came from, you despair," Grant said, quoted by SMH.
"The bookshops in their electorates are closed or struggling, our staff are working reduced hours or being stood down and they seem to see that theft as something they can ignore. Would they ignore someone stealing from the local servo?" he added.
It's clear that many details are still missing from this story, but perhaps the subpoenas and a police investigation could fill in some gaps.
The publisher of the memoir sees itself as a victim here, which is understandable. However, it's not all bad news. The piracy scandal is being picked up in mainstream media outlets throughout Australia, which is priceless free advertising.