As one of the leading CDN and DDoS protection services, Cloudflare is used by millions of websites across the globe, some of which are notorious pirate sites.
The company has taken a lot of heat from copyright holders over the past few years, who want it to expose the operators of these platforms.
However, instead of taking a proactive stance, Cloudflare maintains its position as a neutral service provider. If copyright holders want it to take action, they have to follow the legal process.
This usually means obtaining a subpoena, ordering the company to share the personal details of its customers.
This is exactly what a group of movies companies, including Bodyguard Productions, Cobbler Nevada, Criminal Productions, Dallas Buyers Club, and Venice PI, recently did through a federal court in Hawaii.
These companies are involved in a series of piracy lawsuits. Best known are the so-called "copyright trolling" cases against alleged BitTorrent pirates, but more recently they began expanding their horizons to the people behind piracy services, such as the popular streaming app Showbox.
The subpoena was issued in the latter case after being filed last May.
The documents were not posted publicly but TorrentFreak managed to obtain a copy, which shows that the movie companies want details of the operators behind Showboxbuzz.com, Showbox.software, Rawapk.com, Popcorn-time.to, Popcorntime.sh, YTS.ag, and YTS.gg.
From the DMCA subpoena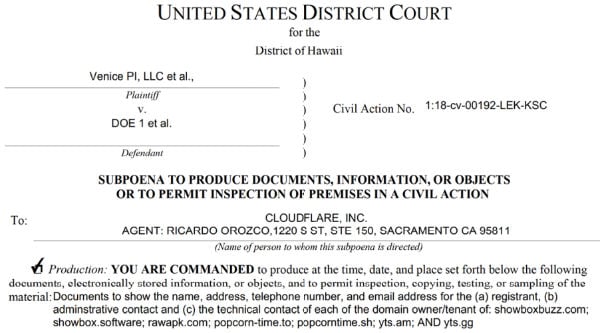 Some additional digging revealed that no motion to quash was filed by Cloudflare, so it is likely that the requested information will be handed over.
The subpoena itself doesn't reveal anything about the intentions of the movie companies, however.
The targeted sites are not listed in the original lawsuit, but it's possible the owners are suspected of being linked to the defendants. In any case, it is clear that the movie outfits see the information as potentially valuable evidence in their legal battle.
The question remains, of course, whether the information Cloudflare has on record will be of use. Many operators of pirate sites and services do their best to shield the true operators from being exposed.