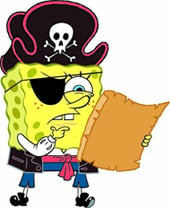 Kids love to be creative and in today's world, tablets and computers offer a wealth of options to do so.
One of these creative playgrounds is the visual programming language Scratch, which has been in development at the Massachusetts Institute of Technology (MIT) for over a decade.
"With Scratch, you can program your own interactive stories, games, and animations — and share your creations with others in the online community," the project explains.
Scratch targets children between the ages of 8 and 16, who can create and remix works of art through an easy to use web-based interface. The tool has become quite popular in recent years with over 12 million projects being shared.
More recently, however, it also gained the attention of copyright holders. Over the past months music industry group BPI sent tens of thousands of takedown notices targeting the creative playground, pointing out the use of various pirated tracks.
Indeed, upon closer inspection it appears that many kids projects feature songs of popular artists.
"Credit to the Internet for pictures"
Many of the young creators may not be aware of their infringing acts, but the major music labels certainly are. MIT doesn't publish any details on takedown notices but Google alone has received close to 40,000 alerts referencing infringing "scratch.mit.edu" URLs.
This makes the MIT website one of the top pirate sites on the Internet, and definitely the most infringing educational domain.
Interestingly, the youngsters are not completely oblivious to the concept of copyright. One user addresses the issue in the Scratch forums, asking whether it's okay to use copyrighted music in his creations.
Other members quickly chimed in concluding that this type of use is permitted.
"Yep! Scratch has a special license that lets you use copyrighted music and other things – just be sure to give credit to anything you don't own," one commenter wrote.
"We're technically protected under fair use because scratch is 'educational'," another comment added.
While this may sound reassuring it's also a bit misguided. Scratch certainly doesn't have a license to use all copyrighted music and even the educational argument could be contested in court.
The people behind the Scratch project seem to be aware of the potential issues. The site has a DMCA takedown policy in place which allows rightsholders to remove content, but not before giving it a second thought.
"In assessing whether or not a Scratch user has violated your copyrights, please keep in mind that Scratch is an educational and not-for-profit initiative, seeking to aid children's learning by providing the tools for them to learn and express themselves using digital technology," the Scratch project writes.
"We hope you also see Scratch not only as a good way of popularizing your creations/website but also as an opportunity to do something good for children's education," it adds.
If copyright holders still want to take down the kids' creations they are welcome to do so, but they should think of the children first…
Luckily for the BPI and other copyright groups Scratch isn't all bad. They would certainly appreciate this home-made anti-piracy PSA created by one Scratcher, for example.
"Don't steal things"