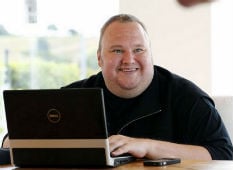 After putting up a grand fight for what will soon be three years, the last couple of weeks have certainly thrown Kim Dotcom an unusual number of serious curve balls.
Last week it was revealed that his New Zealand legal team had backed out of their arrangement to defend the Megaupload founder.
High-profile Queen's Counsel Paul Davison, QC, and Simpson Grierson, one of New Zealand's biggest lawfirms, decided to pull out, a decision that could prove pivotal in the entrepreneur getting a fair trial.
It's also transpires that lawyer Fletcher Pilditch, who was defending Dotcom colleague Finn Batato, has also withdrawn his services from the case.
And back in the Auckland District Court today, things got even worse.
A full report on developments isn't possible due to a news blackout, but Crown Prosecutor Christine Gordon told the Court that an application had been made to have Dotcom's bail revoked after an apparent breach of conditions.
That application, the details of which are shrouded in secrecy, will be heard next Monday. Should it be granted, Dotcom could soon be back behind bars in New Zealand.
In the meantime, apparently considering him a flight risk, Judge Nevin Dawson has taken the decision to clamp down on Dotcom's movements ahead of next week's hearing.
In addition to banning him from using his helicopter, Dotcom is forbidden from using boats and undertaking any travel whatsoever by sea. He must stay within 80km (50 miles) of his home and report to police every single day, rather than his previous weekly check-ins.
The development is yet another obstacle for Dotcom ahead of his looming 2015 extradition battle. The withdrawal of Paul Davison QC and Simson Grier was revealed today to be the decision of the lawyers, not Dotcom, with the former informing the Court that there was no intention to disrupt the case.
Nevertheless, that is the immediate effect. While Dotcom and legal team chief Ira Rothken say they are in talks with other lawfirms. the scale of the case means this is no ordinary problem and one that might even prove impossible to overcome.
"Suffice to say that even over the last few days, we have spoken to some of the other top firms in New Zealand," Rothken said.
"We've also spoken to some QCs. It's a very difficult situation in the sense that these firms will have to look through about 100 meters of legacy files."
One interested firm said it would need 120 days just to look over the case to see they can help, a serious problem when the extradition hearing is scheduled for February and has taken 18 months to prepare.
Today the Crown said it was prepared to give Dotcom an extra month by postponing the hearing until March, but that was overruled by the Judge who said that it would now take place in early June.
This morning Dotcom said he will not be giving up.
"This year was a total disaster. I have taken many punches. But I won't break. I will keep going through this hell for my kids. Count on it," Dotcom said.