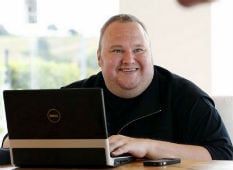 20th Century Fox, Disney, Paramount, Universal, Columbia Pictures and Warner Bros are engaged in a huge battle with Kim Dotcom.
They believe that legal action currently underway against the Megaupload founder could lead to them receiving a sizable damages award should they win their case. But Dotcom's lavish lifestyle gives them concerns. The more he spends, the less they could receive should the money begin to run out.
Those concerns were addressed by the High Court's Judge Courtney, who previously ordered Dotcom to disclose the details of his worldwide assets to his Hollywood adversaries. Dotcom filed an appeal which will be heard in October, but that date is beyond the ordered disclosure date.
As a result, Dotcom took his case to the Court of Appeal in the hope of staying the disclosure order.
That bid has now failed.
Dotcom's legal team argued out that their client's October appeal would be rendered pointless if he was required to hand over financial information in advance. They also insisted a stay would not negatively affect the studios since millions in assets are currently restrained in New Zealand and elsewhere.
However, as explained by the Court of Appeal, any decision to stay a judgment is a balancing act between the rights of the successful party (Hollywood) to enforce its judgment and the consequences for both parties should the stay be granted or denied.
While the Court agreed that Dotcom's appeal would be rendered pointless if disclosure to Hollywood was ordered, it rejected that would have an effect on Dotcom.
"[T]he mere fact that appeal rights are rendered nugatory is not necessarily determinative and in the circumstances of this case I consider that this consequence carries little weight. This is because Mr Dotcom himself does not assert that there will be any adverse effect on him if deprived of an effective appeal," the decision reads.
The Court also rejected the argument put forward by Dotcom's lawyer that the disclosure of financial matters would be a threat to privacy and amounted to an "unreasonable search".
The Court did, however, acknowledge that Dotcom's appeal would deal with genuine issues. That said, the concern over him disposing of assets outweighed them in this instance.
In respect of the effect of a stay on the studios, the Court looked at potential damages in the studios' legal action against the Megaupload founder. Dotcom's expert predicted damages "well below" US$10m, while the studios' expert predicted in excess of US$100m.
The Court noted that Dotcom has now revealed that his personal assets restrained in both New Zealand and Hong Kong are together worth "not less" than NZ$ 33.93 million (US$ 28.39m). However, all of Dotcom's assets are subject to a potential claim from his estranged wife, Mona, so the Court judged Dotcom's share to be around NZ$17m.
As a result the Court accepted that there was an arguable case that eventual damages would be more than the value of assets currently restrained in New Zealand.
As a result, Dotcom is ordered to hand the details of his financial assets, "wherever they are located", to the lawyers acting for the studios. There are restrictions on access to that information, however.
"The respondents' solicitors are not to disclose the contents of the affidavit to any person without the leave of the Court," the decision reads.
As legal proceedings in New Zealand continue, eyes now turn to Hong Kong. In addition to Dotcom's personal wealth subjected to restraining order as detailed above, an additional NZ$25m owned by Megaupload and Vestor Limited is frozen in Hong Kong. Next week Dotcom's legal team will attempt to have the restraining order lifted.