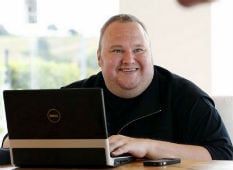 Back in 2012, millions of dollars of Megaupload and Kim Dotcom assets were seized in New Zealand and Hong Kong, action designed to bring the Internet entrepreneur financially to his knees.
That hasn't been the case since, however. Dotcom has continued with his very public displays of wealth, living in one of New Zealand's most expensive houses, flying around the country in helicopters, and bankrolling a brand new political party.
All this, 20th Century Fox, Disney, Paramount, Universal, Columbia Pictures and Warner Bros insist, are clear signs that Dotcom is disposing of wealth that will transfer to their hands should they prevail in their legal action against him – if there is any left of course.
Last month the High Court's Judge Courtney agreed with the studios and ordered Dotcom to reveal all of his global assets "wherever they are located" and to identify "the nature of his interest in them."
Needless to say, Dotcom has been putting up a fight, and has filed an appeal which will be heard in the second week of October. However, that date falls way beyond September 5, the date by which Dotcom has to comply with Judge Courtney's disclosure order.
During a hearing today at the Court of Appeal, Dotcom's legal team argued that their client should not have to hand over a list of his assets in advance of the October appeal as several legal points needed to be aired during the hearing.
According to Stuff, lawyer Tracey Walker said that the 2012 restraining order covered assets generated before that date, but have no scope moving forward.
"The assets that they are talking about now are new assets that were created because of my entrepreneurial skill after the raid," Dotcom explained previously.
Dotcom has remained extremely active in the business sector since 2012, helping to create cloud storage service Mega.co.nz and then generating cash by selling shares in the company. The authorities and Hollywood are clearly trying to keep an eye on the money.
In Court, Walker said that since $11.8 million was seized from Dotcom in 2012 and other funds are currently frozen in Hong Kong, the studios have a fund to draw on should they win their case. Revealing more about his current financial situation would breach Dotcom's privacy, Walker added.
Appearing for the US-based studios, lawyer Jack Hodder said the disclosure order was fully justified.
Ending the hearing, the Court of Appeal reserved its decision on whether Dotcom will have to comply with the High Court ruling and disclose on September 9, or whether he will indeed be able to wait until after the October hearing.
In the meantime the political mudslinging continues in New Zealand, with Kim Dotcom now preparing legal action against controversial blogger Cameron Slater who he accuses of publishing "200 plus smear stories" as part of a "character assassination" campaign handled by the ruling National Party.