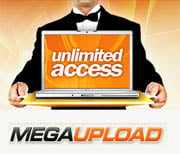 "By all estimates, Megaupload.com is the largest and most active criminally operated website targeting creative content in the world," said the MPAA in a statement issued immediately after Mega was shutdown in January.
As statements go, they don't get much more harsh than that, so one might think that hostilities between Megaupload and the member companies of the MPAA are a long-standing thing.
But as we know, despite all the rhetoric the likes of the usually-aggressive Disney never sued the Hong Kong based file-hosting service, and instead opted to let the FBI do their work for them.
While this government-financed approach will have proven substantially cheaper than dragging Megaupload through civil court, some potentially embarrassing things would have inevitably come out in such a case – such as this selection of emails just obtained by TorrentFreak.
In an eyebrow-raising email penned by Disney attorney Gregg Pendola, the counsel contacts Megaupload not to threaten or sue the company, but to set up a deal to have Disney content posted on the Megavideo site.
Subject: Posting on Megavideo.com
From: "Pendola, Gregg"
Date: 8/13/2008 10:06 AM
To: [email protected]
My name is Gregg Pendola. I am Executive Counsel for The Walt Disney Company. Certain properties of The Walt Disney Company have content that they would like to post on your site.
However, we are uncomfortable with a couple of the provisions of your Terms of Use that we feel may jeopardize our rights in our content. We were hoping that you would be amenable to reviewing a 1-page agreement we have drafted that we would like to use in place of your Terms of Use.
Is there someone I can contact to discuss this? Or someone I can email the Agreement to for review?
Thanks. Gregg
Gregg Pendola
Executive Counsel
The Walt Disney Company
In another email, Shelina Sayani, Digital Marketing Coordinator for Warner Bros, offers a deal to syndicate "exciting" Warner content to Megaupload's Megavideo site.
Subject: Warner Bros. – Looking for Content Manager
Date: Wed, 14 Jan 2009 08:55:50 -0800
From: Sayani, Shelina
To: [email protected]
Dear Megavideo,
I'm writing from Warner Bros., offering opportunities to syndicate our exciting entertainment content (e.g. Dark Knight, Harry Potter, Sex and the City clips and trailer) for your users. Could you please pass on my information to the appropriate content manager or forward me to them? Thanks so much for your time.
Shelina Sayani
WB Advanced Digital Services
3300 W Olive Ave, Bldg 168 Room 4-023
Burbank, CA 91505
818.977.4668
In a later email, Joshua Carver from Warner's Advanced Digital Services department made inquiries as to how the company could save time by using RSS "to upload our content all at once."
Subject: Media RSS Feed from Warner Brothers
Date: Fri, 19 Nov 2010 09:38:49 -0800
From: Carver, Joshua
To: [email protected]
Hello Megavideo,
My name is Joshua from the Warner Bros. Advanced Digital Services department.
I would like to know if your site can take a Media RSS feed for our syndications.
We would like to upload our content all at once instead of one video at a time.
Thank you for your time and funny content,
Joshua D. Carver
Associate Marketing Services Specialist
WB Advanced Digital Services
Jonathan Karron, Director of Marketing at Turner Broadcasting System, contacted Megaupload suggesting a partnership to "promote some of Turner's great properties" and "original programming."
Subject: Promotion of Turner Broadcasting videos on Megavideo
From: "Karron, Jonathan"
Date: 5/7/2009 9:29 AM
To: [email protected]
Hi
My name is Jonathan Karron and I oversee digital marketing for tbs.com, TNT.tv and TCM.com. I'd like to talk to someone in editorial/marketing about your site and how we might be able to work together to promote some of Turner's great properties and lineup of on Megavideo. I've attached some basic information on our websites for your review.
I'm unable to find any contact info you your site so can someone please email me or call me at the # below to start the conversation?
Best,
Jonathan Karron
VP/Digital Marketing
TBS/TCM/TNT
404-575-6855
For Fox, the interest in Megaupload wasn't necessarily aimed at spreading studio content, but to utilize Megaupload's considerable reach by setting up an advertising deal. In this email former Senior Director Matt Barash touts FAN, the Fox Audience Network.
Subject: Fox Ad Partnership
Date: Mon, 23 Feb 2009 08:09:14 -0800
From: Matt Barash
To: [email protected]
I'm reaching out to see if you have a few minutes to discuss the recently launched Fox Audience Network.
FAN is now up and running and fully operational, utilizing best of breed optimization technology to bring cutting edge relevancy to the ad network landscape.
We are scaling rapidly and seeking the right 3rd party publishers to add as partners to our portfolio.
Please let me know if you have some time to chat this week about how we can work together to better monetize your inventory.
Best,
Matt
Matt Barash
Director, Publisher Development
Fox Audience Network
So as we can see, as recently as November 2010 member companies of the MPAA were making contact with Megaupload and trying to do business with the company. According to the authorities the investigation into Megaupload took two years, meaning that these contacts and the start of a criminal investigation could have been just weeks apart.
More on Kim Dotcom's response to the US indictment is published in our feature article.