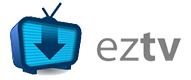 After months of trouble with a hostile takeover as the climax, popular TV-torrent distribution group EZTV called it quits last month.
In the ten years since its founding the group had built up a reputation of quality and consistency, but today it is no longer active.
Instead, EZTV's domain is now run by an outsider who pretends that nothing has changed. On the site's homepage people still see the latest TV-torrents.
Initially these torrents were imported from other groups, but recently a person pretending to be EZTV's Novaking announced that they had started releasing their own torrents again.
"We have a great news for you. [eztv] has started releasing torrents again. No more nested/unneeded files/folders you have complained about. The same quality like before."
While unsuspecting users might fall for the impersonation, people in the know have cut their ties with the site. The Pirate Bay and KickassTorrents, for example, are warning their users to look our for fake files and have disabled or suspended the official EZTV account.
But it's not only the torrent experts who have seen through the facade, Google has too.
For many years the EZTV.it domain (later EZTV.ch) was the top listed result when searching for the term EZTV using Google. This is no surprise, considering that there are hundreds of thousands of backlinks to the site.
Interestingly, however, the "official" domain has now been completely stripped from the top results. Even several pages down the EZTV.ch domain doesn't appear.
It's worth noting that the main EZTV.ch domain was removed following a takedown notice from Lionsgate. However, usually other pages on the same domain quickly take its place, as happened to ExtraTorrent and others.
The absence of the EZTV domain is remarkable and stands out when comparing it to other search engines.
For example, roughly a week ago both Bing and DuckDuckGo continued to place EZTV.ch on top. Today, both search engines still show the domain among the top results, although no longer in first place.
With the site no longer being the top result in Google and elsewhere, search traffic to EZTV is minimal.
Whether the site's total traffic will also go down in the long run has yet to be seen. For now the site is still among the most popular torrent sites on the Internet, and many users either don't know or don't care who runs the show.