EZTV News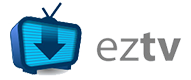 Since the mid-2000s, EZTV has been a widely recognized brand among many BitTorrent users, commonly nown as one of the main TV-distribution groups.
While the original EZTV group threw the towel following a hostile takeover, the people who took over are still serving torrents to millions of people every month.
If fact, most new users probably have no idea that they're not dealing with the real EZTV, is it's one of the top torrent sites in terms of traffic today.