Founded in the spring of 2005, EZTV was an attempt to fill the void left behind by several other TV-torrent sites when they were taken offline. In the years that followed, it grew to become the leading TV-torrent release group, with some of the more popular releases being downloaded up to two million times in just one week.
It therefore came as a surprise to many that the site went blank this June. At first rumors surfaced that the site was shut down through legal action, but in reality EZTV was busy transferring the servers to a new location, and working on implementing several new features while they were at it.
EZTV's Novaking told TorrentFreak that downtime was initially caused by hardware problems, but they decided to take advantage of the situation and relocate all hardware to a new datacenter while implementing several new features.
"It was hard to work on the new features while the site was operational, as I don't get enough hours in the day to maintain and code a new one," Novaking told TorrentFreak, explaining why the downtime took longer than expected.
The wait is over though. Today the site has returned with more features than ever before. Aside from getting the forums back online, EZTV now dedicates a full page to each released episode, with download statistics, a sample of the release and several download mirrors.
EZTV's new episode page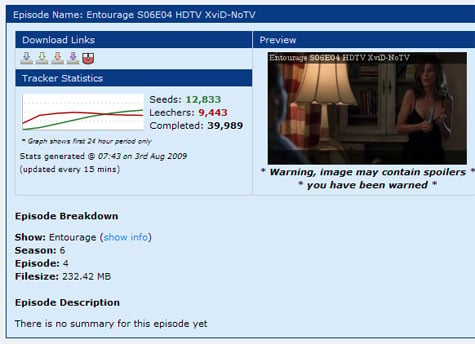 In addition to these episode pages, all the TV shows now have their own page as well as a user generated show rating, a description of the show and related news items and general information.
On top of the changes in the site's functionality, EZTV has also switched to using the OpenBitTorrent tracker instead of those of The Pirate Bay. "That was a pretty easy decision," Novaking told us. "With the current sale of TPB it would only be a matter of time before we couldn't use it anyways, so we made the switch before that happened.
As if that's not enough good news already, there is even more for TV-torrent addicts. Coinciding with the relaunch of its site, EZTV is launching a replacement for TVRSS, a site where users could generate custom made RSS feeds for their favorite TV-shows.
The new site, named ezRSS, has the same functionality as the TVRSS website that was taken down two months ago, and is compatible with all BitTorrent clients that support RSS downloads.
Novaking said that ezRSS is one of features he's most excited about, although it's still uncertain if it will be able to handle the stream of new users without any significant problems. "I'm hoping our servers can handle the load," he said.
There will be plenty of interest, that's for sure.