At the end of last month as part of "Operation In Our Sites", U.S. authorities targeted nine domains that were linked to the offering of first-run movies without consent from the copyright holders. Agents from Immigration and Customs Enforcement (ICE) also helped seize assets from 15 bank, PayPal, investment and other advertising accounts. Four residential search warrants were also executed. It's fair to say the action ruffled a few feathers.
Two days ago an email from a TorrentFreak reader contained information that suggested that famous Brazilian subtitle site Legendas.TV may have also been targeted as it was displaying the ICE 'seized' warning as pictured below.
Trouble at Legendas.TV?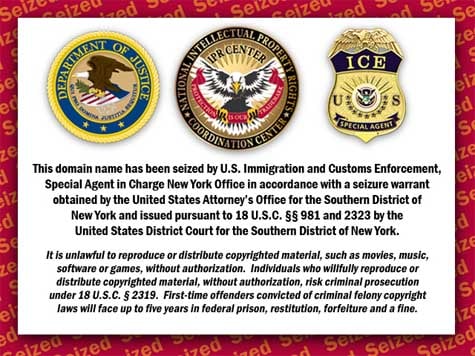 However, within a short time the notice had gone and the site appeared to be operating as normal. Was it in trouble? Had it been targeted by the U.S. Government but survived the attack? It turns out the notice was put there as a hoax, but a hoax with a message.
On February 1st 2009, action by Brazil's IFPI and MPA-affiliated Antipirataria Association Cinema and Música (APCM) caused the Legendas.TV site to be taken down. APCM, which represents the interests of Universal, Warner, SonyBMG, Disney, Paramount, Fox and others, forced the site offline by threatening SoftLayer, the datacenter where the site was hosted.
Just a few days ago APCM were in action again by assisting an operation to shut down Brazil-Series.com, a prominent Brazilian site which indexed TV shows on file-sharing networks and one-click hosters. Following an APCM investigation, police arrested 'Cesar', the 24 year-old Peruvian student owner of Brazil-Series, along with his girlfriend.
A police statement said the pair would be reported for breaking copyright law with an intention to profit from infringements. They argued that this is justified due to the site taking donations and displaying adverts.
When notifying the media, APCM made a number of claims. Some, such as the site had 800,000 users per month and offered links to shows such as House, Friends and Big Bang Theory, seemed nothing out of the ordinary. However, some of the reporting in the media annoyed Legendas who decided to do something about it.
Legendas.TV
"APCM told the news/media that they [owners of Brazil-Series] are criminals and got rich, contribute to drug traffic, and shit. Clearly this is a lie, and probably a way to intimidate other sites," a Legendas spokesman told TorrentFreak.
"So we faked that we got taken down to show people that the media publishes everything without knowledge and with wrong and assymetric information, and if one day they try to catch us, people shouldn't believe in what they will say."
The story of the Legendas 'takedown' was duly reported in Brazilian media although some publications jumped to the wrong conclusion that it was the work of hackers rather than the U.S. authorities.
Since last year's takedown, Legendas has been going strong and will soon launch its new site design.