Paranoia can be high in the file-sharing world so it will come as no surprise that there are regular rumors that site X or user Y cannot be trusted. While it's almost certain that on some sites there are staff members who don't have the community's best interests at heart, evidence of serious foul play is a rare occurrence.
Today, however, the owner of a file-sharing discussion forum confirmed that his site was actually a pirate honeypot, setup with the aim of gathering otherwise confidential information on uploaders, file-hosts and web companies involved in the piracy ecosystem. Adding insult to injury, that site and the admin's services have been acquired by a U.S.-based anti-piracy company.
WDF, real name unknown, is the founder of UploaderTalk.com, a web forum designed to attract individuals who like to make money from uploading files to file-hosting sites. Part of the idea is that they join the site and interact with others with similar aims, such as representatives from file-hosting sites touting their affiliate schemes.
UploaderTalk was founded pretty much a year ago today after WDF was banned from a similar but much larger site called WJunction, probably the largest uploader/file-hosting hangout anywhere on the web.
However, WDF wasn't any old member. After joining up to WJunction in September 2011, WDF later became a moderator then super moderator on the site, meaning that he had access to a lot of private information such as email and IP addresses. The implications for file-hosting sites and uploaders hardly need to be pointed out.
It's not clear why WDF was eventually removed from WJunction but there was clearly some kind of falling out. Shortly after WDF's departure around 12 months ago internal leaks of information from WJunction were published on the web, ostensibly from some kind of third party hack.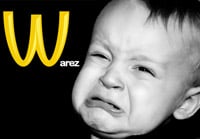 UploaderTalk reported on these leaks regularly including the November 2012 revelations by Robert King of the StopFileLockers anti-piracy campaign which claimed to contain the identities of WJunction's owners and backers.
UT, as UploaderTalk became known, was never destined to challenge WJunction as the leading site of its kind. However, in addition to its regular readers, over the past 12 months the site gathered nearly 1,000 fully signed up members of the uploading and file-hosting community. For them today's announcement will be an unpleasant one.
"UT is now closed. UT was set up for a number of reasons. But mostly to be a sounding board, proof of concept.[.].and to collect data," WDF said in a statement today.
"That's right the biggest swerve ever. I, WDF, work for the anti-piracy people! I have collected information on many of you. I collected info on file hosts, web hosts, websites."
The official announcement from WDF confirmed what many people have suspected for some time – that WDF had been playing on both sides of the fence.
"How is it I was able to protect some sites and people? Because I was working for the other side!" WDF said.
"How is it I knew so many things? Well think about it, I suckered shitloads of you. I built a history, got the trust of some very important people in the warez scene collecting information and data all the time."
It's unclear what WDF intends to do with the information obtained so far but for now it has to be presumed that he will be sharing it with his new employer, NukePiracy LLC, a company registered on October 2013 in Nashville, Tennessee.
"So what happens now? I am already working with a different ID, a new persona, and still collecting data. You never know who I will be or where I will turn up. I work for Nuke Piracy now, this is very bad for anyone profiting from piracy," WDF concludes.