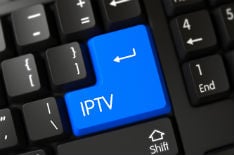 Over the years there have been many claims that people involved in piracy are linked to other areas of criminality but a case concluded yesterday probably wasn't the leading example the authorities had in mind.
In 2017, Greater Manchester Police (GMP) assisted by the Federation Against Copyright Theft (FACT) launched an investigation into Daniel Aimson, who at the time was a serving officer with the force. Another matter, which we'll come to shortly, triggered an investigation into Aimson's finances and his connection to A1MSN Ltd, a company registered in the UK during October 2016 directed by his then-wife, Rachel Aimson.
It transpired that this company, which described itself as being involved in the "retail sale of audio and video equipment in specialized stores", was being used to supply piracy-configured IPTV devices providing access to sport and movies for a monthly subscription.
According to GMP, the company also sold pirate streaming subscriptions that allowed users to log into a web-based portal where the content could be viewed without the need for a dedicated device.
"Over a seven-month period between January to August 2017, the turnover for just one of the accounts linked to the company was in excess of £300,000, none of which was declared to HMRC," GMP said in a statement.
"Further analysis of the account revealed that between September 2016 and May 2017, approximately 1,640 illicit IPTV devices were sold."
Alleged losses for SKY TV
In September 2017, Aimson was arrested at his home under suspicion and fraud and he was suspended from his role with the police. An analysis by Sky TV suggested it could have lost around £5 million in official subscriptions but a figure of $2.124m is now being cited by GMP.
Yesterday, after pleading guilty to conspiracy to commit fraud, a judge at Manchester Crown Court sentenced the former police officer to 12 months in prison.
"Aimson was making enormous amounts of money from what he knew to be an illegal activity," commented Detective Constable Paul Bayliss of Greater Manchester Police.
"He was a police employee with a good career. That is now in tatters and he's facing a lengthy prison sentence during which to contemplate his foolish and deceitful actions."
While 12 months may sound like a long time in prison, many offenders spend just half of their sentences behind bars. However, Daniel Aimson's case goes much deeper than that, something that went unmentioned in the force's statement this morning.
Already Serving a Six-Year Sentence for Drugs Offenses
According to the archives of the Manchester Evening News, in 2015 when Daniel Aimson was still a serving officer, he and several other individuals were producing cannabis on a commercial scale. One of the growing locations was leased using the identity of the member of the public after Aimson stole the individual's driving license during a spot check.
Aimson's farms continued to produce cannabis for months but in June 2016 the operation was raided by police and shut down.
"He (Aimson) was seen at various stages on his own CCTV hard drive to wear a t-shirt depicting the lead character Walt in the hit TV series called Breaking Bad," Prosecutor Owen Edwards previously commented.
"In his various text messages it is clear that Aimson reveled in his double life as officer and criminal."
IPTV Piracy Continued While Aimson Was On Bail
While Aimson was on bail for the drugs offenses, financial investigators found links to his still-operating set-top box business, his wife's limited company through which they were sold, and bank accounts operated by other family members used to handle the money.
In 2017, Aimson was handed a prison sentence of six years and four months for running the cannabis operation. Yesterday, just two and a half years into that sentence, he was handed an additional 12 months inside for selling the pirate TV devices.