On April 14th 2009, Moby announced the details of his just released album 'Wait for Me'. The 16 track offering would be released on June 30th on his own Little Idiot/Mute label but to whet the appetite of his fans, Moby decided to give them a taster of things to come.
The first single from the album was "Shot in the Back of the Head" which is accompanied by a video directed by none other than David Lynch. However, instead of being forced to put their hands in their pockets to pay for the track, Moby released the track for free download directly from his site. Indeed, even though the album is released, anyone can still obtain that particular track for free, completely legally.
Moby sees the future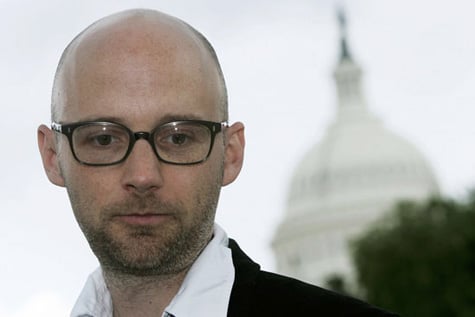 So of course, thousands and thousands of Moby fans have been downloading the track for free (just like many could do from file-sharing networks) and this has been hitting Moby financially.
Readers will be heartened to know that the above paragraph is nonsense. Moby is doing very well indeed from that track thank you very much, despite its 'free' status – or maybe because it's free.
In an email to US music industry figure Bob Lefsetz, Moby revealed something of great interest;
"The album just came out and it would be #1 [in the] euro charts if not for michael jackson re-releases. So that's good. But here's something funny: the best selling itunes track is 'shot in the back of the head'. Why is that funny?"
"Because its the track we've been giving away for free for the last 2 months and that we're still giving away for free. Odd."
Do your part in making Moby even more successful by downloading his track "Shot in the Back of the Head" for free, here. Judging from the comments, Moby's fans love his music and are very grateful indeed.
Free downloads don't equal lost sales but actually increase them? What will they think of next?