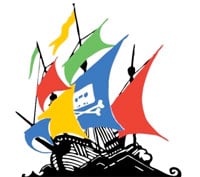 In recent years Google has been heavily criticized by media industry trade groups for facilitating online piracy.
Both the MPAA and RIAA have made repeated calls to the company to step up its anti-piracy efforts, and prevent users from accessing so-called "rogue" sites.
Thus far Google has refused to voluntarily remove results for entire domains from its search index, but in the Chrome Store it has now targeted several torrent-related browser extensions.
In recent weeks Google banned search tools linked to The Pirate Bay, KickassTorrents, Torlock, and several other torrent portals. According to emails sent to the developers, these extensions "encourage, facilitate or enable" copyright infringement.
"We don't allow products or services that violate third-party terms of service, or products or services that encourage, facilitate, or enable the unauthorized access, download, or streaming of copyrighted content or media," Google writes.
One of the sites that had its Chrome extension removed is Torlock. The extension in question allowed users to add a search box to the Chrome browser as a shortcut to search for torrents on the Torlock website. The search box was not any different from any others, and was not actively encouraging or enabling infringements.
When users searched for "Linux" for example, it would redirect them to a search page on the Torlock site that showed results for "Linux."
TorrentFreak reached out to Jack, the owner of Torlock, who says he can't comprehend why his extension was removed.
"I have no idea why Google would state that our Chrome extension was in violation as no evidence was given, just a generic response with the usual legal jargon. This is really a sad day for web freedom as Google has now taken the stance of guilty until proven innocent," Jack tells us.
The decision to ban these torrent-related extensions is peculiar, since they do not encourage piracy any more than Google's own search box. According to Torlock's owner, Google would also have to remove its own search bar through which the exact same content can be found, and much more.
"Correct me if I am wrong but doesn't Google's own search bar on their front page do exactly the same thing they are accusing us of? All you have to do is know a name of copyrighted content and Google it and you can have it downloaded and on your TV in seconds," Jack says.
"We hope Google realizes that they are in fact the biggest torrent indexer in the world," he adds.
While something can be said for the argument that certain torrent sites are encouraging or facilitating copyright infringement, an extension that merely adds a search box doesn't immediately fit this description.
Google's actions suggest that the company sees the torrent sites in question as "infringing," a decision it has thus far avoided making in regards to its search results.
According to Torlock's owner, Google's actions set a dangerous precedent and he hopes the company will realize this.
"Torrent sites are legal in most countries around the world, the fact that they are dictating what the user can and cannot see is something that should sound the alarm bells," Jack says.
TorrentFreak reached out to Google for a comment but we have yet to receive a response from the company.