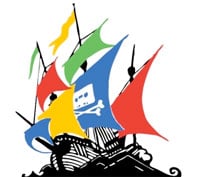 For years entertainment industry groups have lobbied search engines to penalize sites that link to a high number of copyrighted files, and last summer Google appeared to succumb to these demands.
The search engine announced that it would take into consideration the number of DMCA takedown notices it receives against sites to determine the ranking of those websites in its search results.
"Sites with high numbers of removal notices may appear lower in our results," Google's Amit Singhal explained.
However, half a year has passed and according to the RIAA things haven't changed for the better. The music group published a "report card" today, showing that unauthorized downloads still outrank legitimate music stores in many cases.
"Six months later, we have found no evidence that Google's policy has had a demonstrable impact on demoting sites with large amounts of piracy. These sites consistently appear at the top of Google's search results for popular songs or artists."
The RIAA monitored the search results for the names of popular artists and tracks, combined with the word MP3 or download, and found that in 98% of instances infringing content was linked in the top 10 results. This was the case despite the fact that Google received thousands of DMCA takedown requests for the sites listed in the initial results.
"The search rankings for sites for which Google has received large numbers of instances of infringement do not appear to have been demoted by Google's demotion signal in any meaningful way, at least with respect to searches for downloads or mp3s of specific tracks or artists," RIAA concludes.
The chart below shows a breakdown of the search results. According to the RIAA, three to five of the top 10 search results point to sites for which Google received more than 1,000 DMCA takedown requests. On the other hand, only 0.6 out of 10 search results link to legitimate music stores.
Search results for top 50 music tracks
In addition the report card points out that Google's filtering of piracy-inducing keywords from their Auto-Complete and Instant features could be better.
Using a similar methodology applied to the search results, the RIAA found that Google suggests names of "pirate" sites when users type the names of popular artists and tracks, combined with the word MP3 or download.
"This problem may be exacerbated by Google's auto-complete function, which suggests that users append terms associated with sites for which Google has received notices of multiple instances of infringement," RIAA notes.
Pirate suggestions
The RIAA concludes that Google must step up its effort to downrank infringing search results, and says it's happy to lend a hand.
"Research shows that users trust search engines like Google to lead them to legitimate sites when searching for music, yet Google's demotion program is not working. We encourage Google to immediately make the necessary changes so its pledge becomes a reality, and we stand ready to work with Google in that endeavor," they write.
Whether Google intends to take up this suggestion remains to be seen. One thing's for certain though – pressure from the RIAA and other anti-piracy groups will only increase during the coming years.