To help hundreds of millions of people find what they search for, Google has implemented some nifty features over the years.
In addition to providing a list of web results, Google often shows related questions and popular topics, which should make it easier to discover new content.
These features are based on algorithms that are not always aware of the intricate nuances of today's web. This is particularly true when it comes to online media and entertainment.
Over the years Google has been regularly criticized for indirectly making it easier for people to find pirated content. This message hasn't gone unnoticed by the company, which has implemented a wide variety of anti-piracy optimizations. It even went as far as voluntarily removing The Pirate Bay from search results in the Netherlands.
Pirate Recommendations?
Despite Google's best efforts, its algorithms can sometimes get out of line. When we search for the term "free movie website" for example, the related search section featured the "best movie website" search, prominently featuring several pirate sites.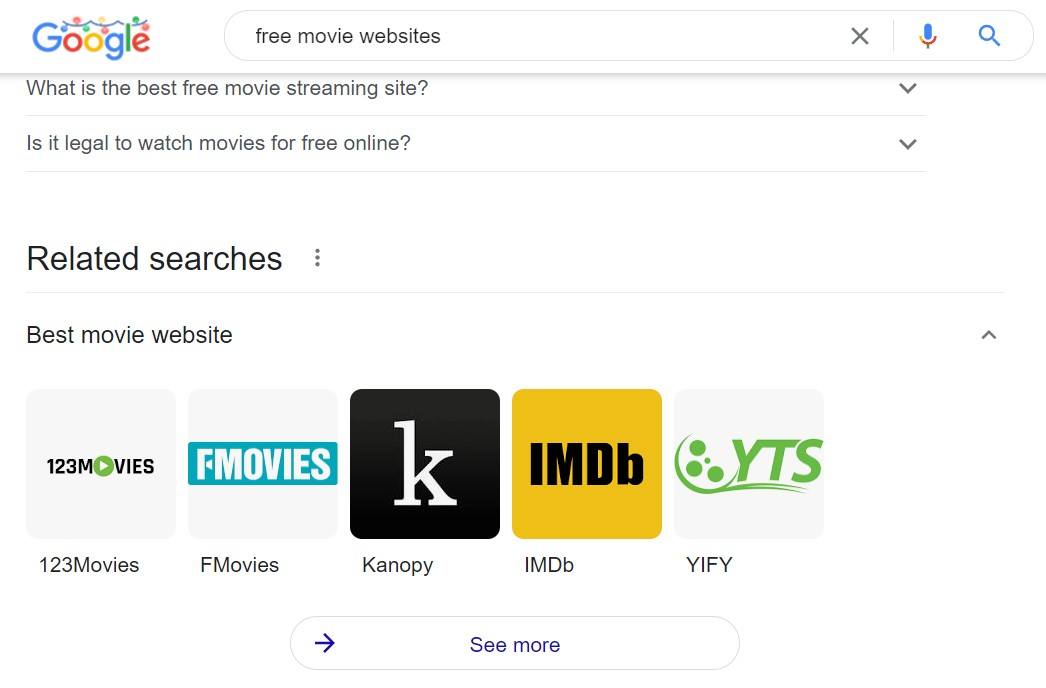 As shown above, these best movie sites include the pirate streaming sites 123movies and Fmovies, as well as torrent site YTS.
These results may differ per device but we tested it in a relatively unused browser without being logged in to any Google account, so this appears to be a rather general 'recommendation'.
The Algorithms Work
It's easy to blame Google's algorithms but they simply do their job. The web is littered with sites that provide overviews of the best free movie sites and many of these list pirate sites as well.
Similarly, it seems plausible that many people who search for these terms are looking for pirated content, which is a signal for the algorithms that YTS, 123movies, and Fmovies are relevant results. And that's true.
The only problem is that these sites are not exactly legal. Therefore, we expect these recommendations to disappear in the near future. The same happened after we pointed out that Google prominently featured the "best torrent sites."
There's More…
To conclude, we should mention that the "best movie websites" listing is not the only place where pirate sites and apps are featured.
When we go further down the rabbit hole we also see reels for "free movie websites," "free movie apps", "best free movie download websites", "websites to watch," and several other related queries.
Ironically, even when we search for "legal movie streaming sites" pirated alternatives are suggested through related searches.