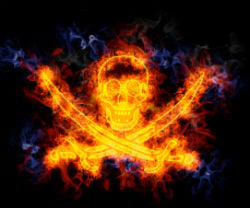 Legal action filed last week by two Arizona-based companies aims to prevent pirate sites distributing their content. That's not unusual in itself but the case is far from ordinary.
Founded in 2005, CP Productions, Inc. produces adult entertainment media and uses its own website for distribution. Fornix Holdings, Inc. handles intellectual property matters for CP Productions and to date has registered 157 videos at the U.S. Copyright Office.
Both companies are owned by Arizona resident David Graves who appears to manage everything from production to his companies' anti-piracy efforts.
At a district court in Arizona on November 15, Fornix Holdings and CP Productions filed an ex parte application for a temporary restraining order (tro) and preliminary injunction. The goal was to quickly end infringement on several pirate websites where CP Productions' videos were offered illegally for free.
Piracy is a common issue in the U.S. affecting thousands of content-producing companies. What stands out in this case are the far-reaching demands on extremely short notice. That the court authorized strict anti-piracy measures in a matter of days is noteworthy too, especially given some of the unusual features of the case.
Declaration in Support of TRO
The core of the TRO application is straightforward. As laid out in David Graves' declaration, the website DaftSex.com links to 1,734 pirated copies of CP Productions videos. Two other domains, daftsex.tv and daftsex.porn, redirect to DaftSex.com.
A second website, Pornwild.com, began offering CP Productions' videos around May 2022, again without permission. Graves says the site links to 1,339 infringing videos while two other websites, Pornwild.to and Pornwild-to.nicepornproxy.com, redirect to Pornwild.com.
Through content-monitoring companies, Graves sent over 1,700 takedown notices to DaftSex.com, to an email address that used to appear on the site but no longer does. The 1,600 takedowns sent to Pornwild.com were sent to a withheldforprivacy.com address listed in the domain's WHOIS records. Graves says no responses from the sites were ever received.
Application for TRO/Preliminary Injunction
In their preliminary statement, Fornix and CP note that since the operators of DaftSex.com and Pornwild.com concealed their identities, they are listed as Doe #1 and Doe #2 in their application. There's no reference in the application but PornHub owner MindGeek actually made Doe #1's identity public in September.
To overcome their identification problems, the applicants named EasyDNS, Namecheap and Cloudflare as defendants in the case. And since it "provides a search service that returns Defendant John Does' sites" in response to certain searches, Google was also named as a defendant.
At this point readers will recall that MG Premium, a subsidiary of Pornhub-owner MindGeek, won a $32 million judgment against the operator of Daftsex.com on November 7, 2022.
Fornix and CP's application for a temporary restraining order against DaftSex and Pornwild was filed on November 15. That's more than a week after MG Premium won its own case against DaftSex and an injunction requiring Verisign to hand over the DaftSex.com domain to MG Premium.
Already under new ownership, DaftSex.com now redirects to RedTube, another platform owned by MindGeek.
Applicants Demand Everything – and More
To prevent the operators of DaftSex and PornWild from knowing about the case, Fornix and CP requested an ex parte restraining order in the face of "willful and ongoing infringing conduct." Their demands included the following:
Deactivate and cancel the DaftSex and Pornwild domains and prevent re-registration
Deactivate the websites at daftsex.com, daftsex.tv, daftsex.porn, pornwild.com, pornwild.to, pornwild-to.nicepornproxy.com and delete all copies of infringing works
Delete all copies of plaintiffs' works uploaded by DaftSex and Pornwild to third-party sites
Cease provision of all internet services to DaftSex and PornWild including domain name registration, hosting, security, content delivery, and reverse proxy services
Compel Google to remove all DaftSex and Pornwild websites from search results
After the application was filed on November 15, Judge Diane J Humetewa responded by ordering a telephone hearing on November 17. In the meantime, summons were reportedly issued to Cloudflare EasyDNS, Google, and NameCheap. What happened during the telephone hearing isn't revealed in the docket but it was subsequently reset for November 21.
Google Appears, Dismissals Begin
An entry dated November 18 shows that Fornix and CP Productions voluntarily dismissed their case against EasyDNS. Hoping to learn more about this fast moving case, TorrentFreak contacted EasyDNS with some questions. CEO Mark Jeftovic told us that he knew nothing about it.
"We have never been served any papers regarding this case. Your email was the first I've ever heard about any of this," Jeftovic informed TF.
After consulting their systems, EasyDNS did manage to find some related information. One ticket related to a copyright removal request forwarded to a customer and later confirmed as complete by the complainant. Another contained a notice from Verisign advising that a domain was being moved onto the EuroDNS registrar tag to comply with the MG/DaftSex injunction. That left one more.
"[The third ticket] was an email thread amongst several lawyers asking if we will participate in some hearing five days ago, received the day of the hearing. Our agent responded 'What is our involvement with this case?' and we never heard back," Jeftovic explained.
Jeftovic then offered a theory on EasyDNS' dismissal from the case. "My guess is one of Google, Namecheap or Cloudflare did attend the hearing, pointed to Section 230 or other safe harbour provisions, and got all of the ISPs dropped from the defendants," he said.
Coincidence or probably not, an appearance was made on behalf of Google on November 18. The very next day, Namecheap, Cloudflare, and Google were voluntarily dismissed too.
Temporary Restraining Order Granted
Following a telephone hearing this Monday, Judge Humetewa granted the plaintiffs' request for a temporary restraining order, minimal details as follows:
"Plaintiffs are not required to post a bond. Defendants are to disable infringing domain names, suspend service to those infringing domain names, and prevent transfer," the entry reads, adding:
"Google shall, to the extent necessary, remove the infringing domain names from search results."
The preliminary injunction will be handled separately.