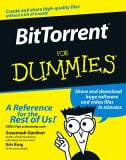 Following in the footsteps of the RIAA, dozens of porn publishers and lesser-known movie studios, in 2011 John Wiley and Sons became the first book publisher to chase down alleged file-sharers in the United States.
The company has filed well over a dozen lawsuits in U.S. courts, together targeting hundreds of so-called John Doe defendants. Wiley is famous for its "For Dummies" series of books and the defendants in these actions are all accused of downloading or sharing the titles without permission.
Wiley attorney William Dunnegan previously told TorrentFreak that the company's approach has three aims – to educate, obtain settlements, and prevent further infringement of the company's products.
While it's not possible to say how many of Wiley's targets have chosen to settle, there are some that dig in their heels and refuse to pay up. As reported here in 2012, at least three Doe defendants were named by Wiley, with the company threatening to take their cases to jury trial.
One of those was the innocuous-sounding Ralph Mohr, but throw in a previously-unlisted middle initial, and one discovers that far from being just another defendant primed to be squeezed for a few thousand dollars, this one has public standing.
Ralph M. Mohr is a Republican commissioner on the Erie County Board of Elections. According to Wiley, the politician is also guilty of pirating one of their books, Essential Calculus For Dummies.
The dispute dates back to October 2011 when Wiley filed a case against 27 John Doe defendants. In November 2011 Judge William H. Pauley ordered the Does' ISPs to hand over their personal details to Wiley.
The case progressed into 2012, with Wiley eventually naming four defendants, Mohr included. But by May 2012 cases against the other three defendants were all marked as 'terminated', leaving the politician as the only remaining defendant.
Mohr says he tried to explain to Wiley that his computer wasn't working on the date of the alleged offense and that his children were either too young to be interested in calculus or away at school at the time.
"I thought it was a scam at first," Mohr told Buffalo News. "I didn't even have an operable computer when this happened."
And this is where it gets really interesting. Mohr says he is determined to put up a fight to clear his name and protect his reputation, something that no other "copyright troll" defendant (RIAA targets aside) has yet done in a courtroom. A first time ever testing of BitTorrent-related evidence looks like it could be on the cards.
Adding to the excitement is that Mohr is a former county legislator and no stranger to the legal system. In 2012 he was described as "the most experienced election law attorney in New York State."
Brushing up on copyright law may very well be his next goal.